Hope that flood study will solve Oban's problem
A study aiming to find a long term solution to a Highland coastal town's flooding problems has begun – and is expected to be completed later this year.
Parts of Oban were left under several feet of water after heavy rainfall in October.
Lochavullin Retail Park suffered extensive flooding with Lynn Road closed, preventing vehicles from accessing Tesco, M&S Food Hall, Homebase and Argos.
Cars which had been left in Argyll and Bute Council's Lochavullin car park were submerged in water and a home in Soroba Road was flooded as the nearby Black Lynn Burn burst its banks. The fire service was called in to pump water from the house.
Oban residents will offer views on flooding at public consultation
Now the council hopes the Oban Flood Study, being carried out by consultants EnviroCentre, will find an engineering solution which will stop the same thing happening again.
Councillor Roddy McCuish, policy lead for roads and amenity services, said: "The damage done to the economy of Oban was considerable, given the fact that people couldn't get access to the shops and motorists lost their cars.
"This study will tell us what we need to do long term. While it will tell us what we need to do, it will not guarantee the funding."
A spokeswoman for the council said: "The study will consider river, rainfalls and coastal flooding in Oban now and into the future, based on current climate change predictions.
"Digital modelling will simulate how flooding impacts across a large area of the town, including Lochavullin. This will offer up suggestions for ways of improving future flood situations.
---
>> Keep up to date with the latest news with The P&J newsletter
---
"Consultants visited Oban during the week the car park was flooded and will incorporate the information they gathered into the study."
The study was launched early in 2018 as part of the Local Flood Risk Management Plan. The council received invaluable input from residents at a consultation event in June.
Police were forced to issue a warning after cars were still attempting to drive into the Lochavullin car park during October's flood.
Inspector Mark Stephen said it had been described as the "worst flooding ever seen in the town."
Four or five cars which had been left in the car park overnight were completely flooded, with the water level right over the doors and up to the windscreens.
Have your say
People in Oban are being invited to have their say on their experiences and issues on flooding in the town.
A drop-in session is being held for the community, offering an opportunity for local people to contribute to the future management of flooding in the area.
A first-round of consultation was in June 2018 but since then severe flooding occurred on October 9, brought about by an estimated 117mm of rainfall occurring over the course of three days. This caused widespread flooding in the Lochavullin area as well as other parts of the town. Local residents and businesses experienced significant damages and disruption.
Weather chaos hits the Highlands as heavy rain causes major flooding
Local accounts and photographs from the October flood are being sought to inform the Flood Study being carried out by Argyll and Bute Council with EnviroCentre Ltd.
Future flood prevention plans are likely to look at how the wider water course contributes to what might, at first glance, appear to be localised flooding. Future plans will focus on sustainability, adaptation and resilience over the long term.
The event will take place in the Rockfield Centre, Oban, on Wednesday January 30 from 11am – 5.30pm. For anyone who cannot attend, information or suggestions can be emailed to ObanFRM@envirocentre.co.uk.
The council's Policy Lead for Roads and Amenity Services, Councillor Roddy McCuish said: "This is an excellent opportunity for local people to have their say on plans that will help to minimise flooding and benefit the whole community.
"The views of our residents are vital, so it is really important that as many people as possible attend."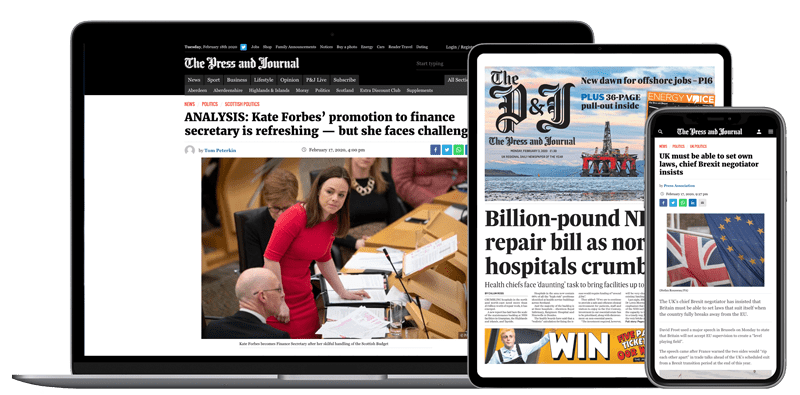 Help support quality local journalism … become a digital subscriber to The Press and Journal
For as little as £5.99 a month you can access all of our content, including Premium articles.
Subscribe