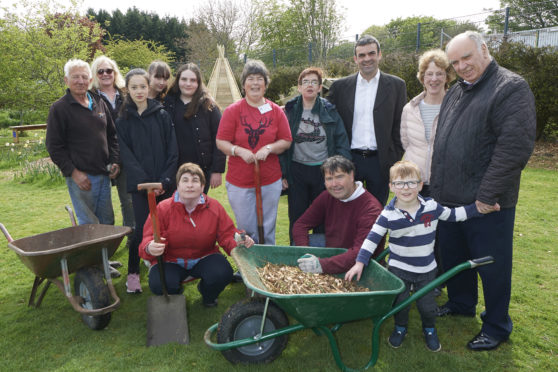 An Inverness businessman and his wife have thrown a lifeline to an under-threat training scheme for vulnerable adults.
David Sutherland and his wife Anne have given £20,000 which will support 20 adults at the Grow project, an award-winning scheme that gives people with learning difficulties to chance to learn horticultural skills.
The project – which stands for Garden, Recycling, Organic and Wildlife – has been running for 22 years at Inverness Botanic Gardens – but faced potential closure amid a financial shakeup at its long-term funder NHS.
The money will keep it running at full strength for year – and Mr Sutherland will also offer advice on long-term sustainability.
Ewan Mackintosh, facilities manager at the Botanic Gardens, said: "The loss of funding was a severe blow. Without the support from Mr and Mrs Sutherland, our trainees would be sitting at home instead of enjoying their new horticultural skills.
"We're immensely grateful to them as it enables us to continue a project which has won several awards, including the Green Apple for organic gardening.
"The trainees find their work immensely satisfying, gaining physical activity in a healthy environment and taking part in meaningful activities with the prospect of future employment."
A team of trainers teach the adults, who range from moderate to severe learning difficulties, to maintain and develop a garden which is open to the public. Trainees are taught to promote recycling and wildlife, to grow produce and sell a range of organic produce.
Mr Sutherland, whose generous donation has secured the future of the service for the coming year, said: "I've seen how much the trainees enjoy their outdoor work and learning. It would be a tragedy if this project was lost.
"We'll also offer what advice we can on generating more economic activity. We hope other businesses can play their part in such a worthwhile cause."
The project helps produce high quality and organic locally grown produce which can be purchased by the public from Inverness Botanic Gardens.
All profits from the sale of produce are reinvested into the service to ensure the future sustainability of the venture.
Last year, the Botanic Gardens, located on Bught Lane in Highland capital, celebrated its 25th year by hosting the first ever Highland Garden Festival at the location, bringing gardening enthusiasts together to celebrate the milestone.