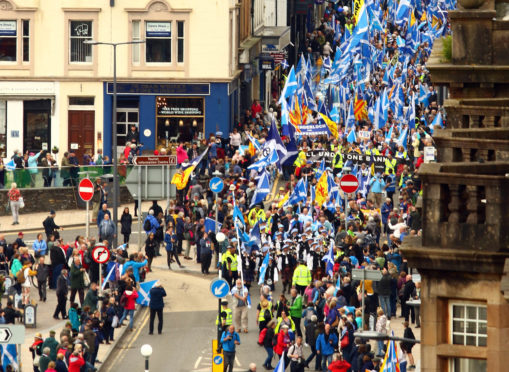 Thousands of people marched through Oban at the weekend to demonstrate their support for Scottish independence.
Organisers, All Under One Banner, say more than 7,000 people attended a rally in the west coast town's Mossfield Park.
A procession from one end of the main street to the other lasted for more 20 minutes with groups from all over Scotland and beyond taking part.
Many attendees were seen flying their flags in McCaig's Tower prior to the event taking off.
Leading the march was Campbell Cameron, the chairman of the local branch of the SNP and a former deputy leader of the local authority.
Mr Cameron was joined by Fiona Ferris, who launched a song called The Bluebell Sweetly Blooms during the gathering.
Mrs Ferris said: "Not only were there thousands of people on the march, but there were hundreds of people lining the streets.
The independence march live from Oban

Posted by Oban Times on Saturday, 15 June 2019
"It was one of the town's finest days and I was delighted to be part of it."
The town's MSP, Michael Russell, said: "It was fantastic to see the numbers who wanted to march and the very warm welcome they got on the streets of Oban."
Organiser, Fiona Cameron, added: "We were delighted with how everything went and that so many people came along to support us.
"We think that more than 7,000 people marched on the day.
"It was a wonderful place to launch Mrs Ferris's song and I am sure it will be a day that lives long in the memory of the town."
John Norman, who lives in Tobermory, said: "As an English man living in Scotland, I am sick of Westminster dictators not listening to Scotland's needs. And with what's happening down south, the need for independence couldn't be more relevant.
"Let's get out of the union, form our own diplomatic government and build a better Scotland."