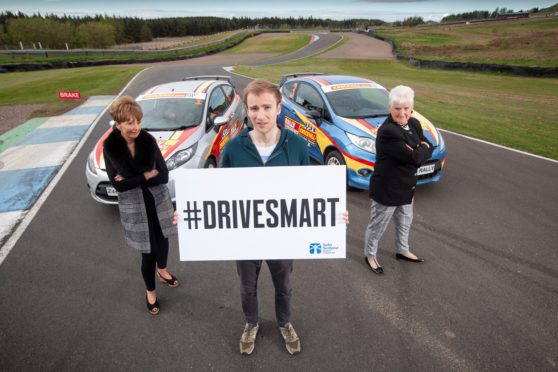 Visitors to Inverness' Eastgate Shopping Centre on Saturday are to be given a unique testing experience to navigate grans lounge in an indoor go-kart circuit.
The event is part of the wider initiative between the Scottish Government and Road Safety Scotland to encourage young male drivers between the ages of 20 and 29 to drive like their gran is in the car.
The Drive Like Gran's in the Car campaign has been brought together after research found that drivers of the 20-29 age category claim to drive better with precious cargo on board – including their gran.
The event within the Eastgate Centre will see visitors enter the indoor circuit through grans lounge before avoiding obstacles and distractions, including gran herself, before crossing the finish line.
The competitor who hits the least obstacles before crossing the line will be declared the winner.
The campaign has been launched on the back of information gathered by Road Safety Scotland which reveals that over 2,040 20 to 29-year-olds were involved in accidents, with 314 killed or seriously injured.
Figures also reveal that the 20-29 age group are the group most likely to be involved in an accident than any other.
Michael McDonnell, director of Road Safety Scotland, said: "We've had a really positive response to the campaign so far, with young men in the target age group actively engaging with our Gran content on social media and a number of organisations helping us to share our #DriveSmart message."
Grandmother Christine Hinshelwood, who took part in the radio advertising, added: "The thought of my grandson being involved in an accident or, God forbid, being the cause of one, just doesn't bear thinking about.  This campaign struck a real chord with me, so I jumped at the chance to get involved."