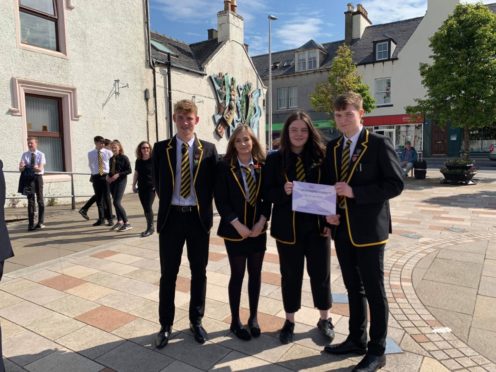 School students across the Western Isles have been commended for their "outstanding contributions" in helping to mark the centenary of the Iolaire.
All 24 schools across the Western Isles have been awarded a Certificate of Excellence by the WW100 Scotland Scottish Commemorations Panel in respect of their hard work and performances incorporated in the Dìleab (legacy) Project and the historic HMY Iolaire commemorations.
HM Lord-Lieutenant, Donald Martin presented the schools with their awards praising their "memorable performances" which he says will remain a "lasting legacy" on the island.
He said: "Our schools are to be congratulated on their outstanding contributions to the WW100 and HMY Iolaire centenary Commemoration Events. Our pupils and staff have provided us with memorable performances of commentary, music and poetry which will be a lasting legacy to inform future generations of the impact of the First World War, within our communities".
During the celebrations, several pupils on the Isle of Lewis contributed to the creation of a historic memorial by collecting stones from the home villages of each of the 201 sailors who lost their lives in the devastating maritime disaster.
Each stone was incorporated into a unique stone cairn, situated within Stornoway's town centre, to mark the 100th anniversary of the tragedy.
Meanwhile, as part of the Dìleab (legacy) project in 2018, Lewis pupils worked on the loss of the Iolaire, Harris pupils looked at World War I, Uist pupils focussed on Protest and Politics and Barra pupils researched Emigration.
Councillor Angus McCormack, Chairman of the Comhairle nan Eilean Siar's Education, Skills and Children's Services Committee, said: "We are absolutely delighted to see this recognition of the work done by pupils across the Western Isles last year.
"We want our young people to be educated in their local history and to know what men and women went through in World War I. The Dìleab project has been a huge success and we look forward to seeing the fruits of this year's theme Ath-ghairm (Re-awakening)."