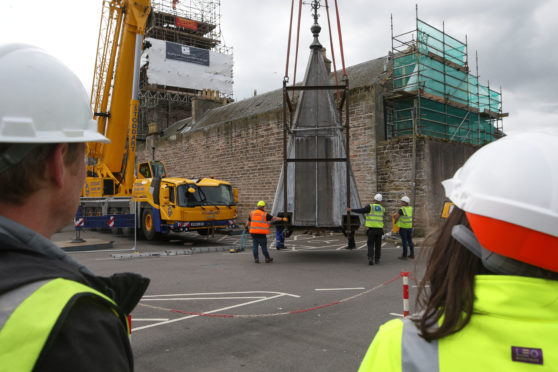 An intricate operation took place yesterday as the six-tonne steeple on top of Nairn's courthouse was removed to pave the way for upgrades to the 19th century building.
The masonry was lifted from its location by crane to allow for extensive renovations to take place, as part of a wider £800,000 revamp of the town's courthouse.
The steeple, which provides stunning views over the seaside town, was re-built in 1860.
Other parts of the courthouse building date back to 1818, with the old tollbooth playing host to a prison in years gone by.
Members of the public gathered alongside amateur photographers to take in the unusual sight of the steeple being removed and gently lowered into a nearby car park.
The operation was managed with precision, with the actual lift taking approximately two minutes from top to bottom, catching many of the wishful snappers off guard.
As a result of the procedure, which began at 9.30am, road closures were put in place.
High Street and the immediate vicinity was shut off whilst the crane lifted the impressive structure.
Traffic restrictions were also enforced on the car park, with access closed to motorists at both entrances from the A96 Inverness to Aberdeen road from Saturday night.
The steeple, which is now made of wood and lead, was initially constructed of stone and plays host to a cast iron bell also dating back to the 19th century.
Councillor Tom Heggie recently took the steps to the top of the scaffolding to hear first-hand about the ongoing work, viewing the clock windows, the bell and the gargoyles.
Yesterday, Mr Heggie said: "This demonstrates a significant investment by the council in a building in the heart of Nairn town centre.
"I am confident that Laing Traditional Masonry will do an excellent job here, having demonstrated their high quality of craftsmanship at Inverness Town House."
Over the course of the 48-week project, renovations to the wooden structure will take place, with the wood of the steeple to be replaced using Douglas Fir.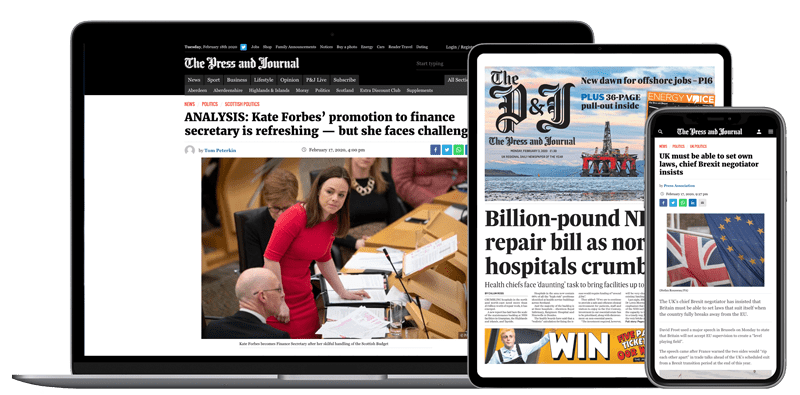 Help support quality local journalism … become a digital subscriber to The Press and Journal
For as little as £5.99 a month you can access all of our content, including Premium articles.
Subscribe