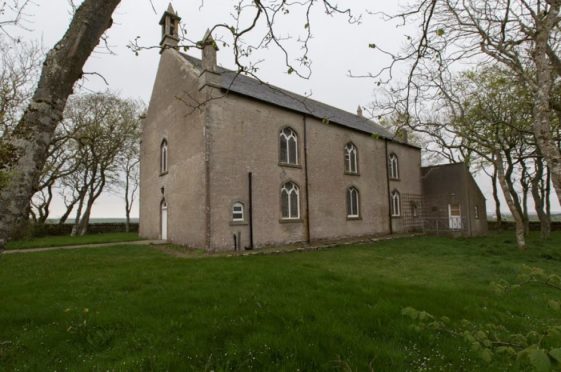 A historic former parish church, once the home of John Knox's daughter, has been put up for sale.
It is understood developers will go head-to-head with community groups to secure the B listed Bower Church, on the North Coast 500 route in Thurso parish.
Offers of more than £45,000 have been requested for the grounds and building, which comes with mains water and electricity and some original fixtures and fittings from the early 19th century.
Listed in 1984, the church closed its doors to parishioners on Sunday December 30, with the Kirk making the decision to sell the building earlier this year.
While the existing building was built in the early 19th century – with late 19th century re-casting and alterations – it stands on the site of a much older church.
Memorials and plaques from the earlier building were moved into the church that now stands on the site.
They include one to the Reverend Zachary Pont and his wife Margaret – who was the second daughter of 16th century church reformer John Knox – and was born in 1567.
They had one son, Robert, who was baptised in Prestonpans in 1609.
Pont was an influential reformation minister who was appointed as a Lord of Session in the Scottish Courts.
Other memorials are to the Hendersons of Stemster and to the Sinclairs of Barrock and Dunbeath.
Ruins of a former 17th century church, meanwhile, reside in the nearby graveyard.
Unusually, the parish church's two long windows are situated in the north, rather than the south elevation of the church.
Generally these windows, which flank the pulpit, would have faced south – "towards Jerusalem".
The brochure for the property, issued by the Church of Scotland, states: "Situated in a peaceful location with countryside surrounding, this impressive building is located in a good-sized plot.
"Bower Church is located in the small village of Bower, which has its own primary school, and is only eight miles from the town of Thurso and eleven miles from the town of Wick, which is currently undergoing massive regeneration and development."
A spokesman for the Church of Scotland's law department said: "The property has been quite popular and we have now set a closing date of July 24.
"People from all over the country have approached us and there has been interest from a community group about the building."