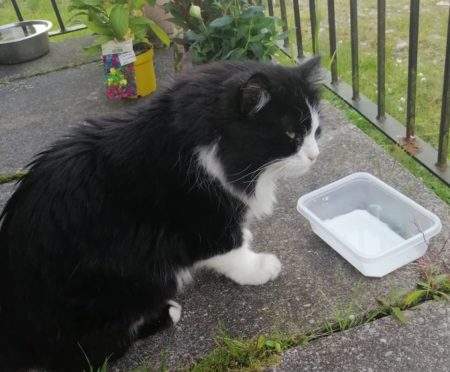 A sweet-toothed cat has been returned to its owner after being found scoffing lemon drizzle cake in a house 58 miles away from home.
Alison McMenemy took in two-year-old Casper from the Scottish SPCA in February, but was left devastated when the pet went missing from her property in Cromarty earlier this month.
Ms McMenemy had searched for the cat and placed posters around the area, all to no avail.
She admits that he had almost "given up hope" of ever seeing the black and white pet again when, 10 days after he absconded, she was told he had been traced.
The animal-lover's relief turned into shock when she was told that Casper had been found 58 miles away on the other side of the country.
She was less surprised, however, when she learned that her pet was discovered after sneaking into someone's house for a taste of some freshly baked cake.
Ms McMenemy said: "I had given up hope really, he is such an affectionate cat that I could not imagine why he had disappeared.
"He was mistreated as a kitten, and I got him in February from the Scottish SPCA. So I was very sad to have lost him, and delighted to have him back.
"He is quite a greedy cat and I am not surprised that he was found eating cake. Casper will always find a way to survive."
Heather Swinton, who runs Inverness Cat Rescue with her husband Derik, said Casper was able to be quickly returned because he had been micro-chipped.
Mrs Swinton said: "We got a call from a woman in Kinlochewe in Wester Ross who said a cat had got into her house during the night and eaten some of a cake she had made and left out to cool.
"We took a run out to the area, and found Casper. He was covered in ticks and had clearly been living rough.
"But he was friendly and affectionate – I thought at first he might have been a tom cat on the prowl.
"I was shocked to find, after we checked his microchip, that he was actually from 58 miles away in Cromarty and he had an owner that was desperate to get him back.
"I think he must have been a stowaway in a van, or in a tourist's car, and someone brought him across the country by mistake.
"I knew we had the right owner when I phoned Ms McMenemy and she said 'oh he loves a little bit of lemon drizzle cake'. It was lovely to have them reunited."