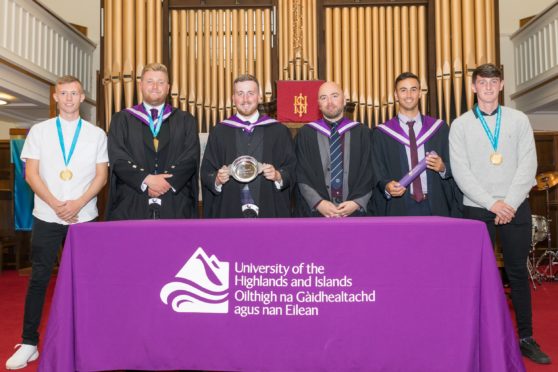 Four professional golf aces are celebrating after becoming the first to graduate from a unique degree.
The University of the Highlands and Islands run a four-year BA (Hons) Professional Golf degree, close to the the world-renowned Dornoch Golf Club.
Marsha Hull, 31, from Strathhaven; Alastair McNaughton, 22, from Paisley; Graham Minton, 23, from Gourock; and Riccardo Cellerino, 25, from Alassio, Italy; have now graduated.
Ms Hull said she had thoroughly enjoyed the course and found it valuable for her future career.
She said: "During my studies at the university, I have received support on a professional and personal level from both lecturers and my fellow students. This has played, and will continue to play a huge part in the progression of my career."
The university's golf team and four students – based at the North Highland College – also received their Sporting Blues prizes on the day.
Euan Ferguson, Lewis Johnson, John Oster, Graham Minton, were named team of the year; each receiving a half blue.
Alan Fleming, golf curriculum leader, said: "I am proud to see our first cohort of talented students graduate. They have put in a lot of effort to continue competing whilst also studying. This is just the start of their careers, with further studies and playing professional events now in the pipeline."