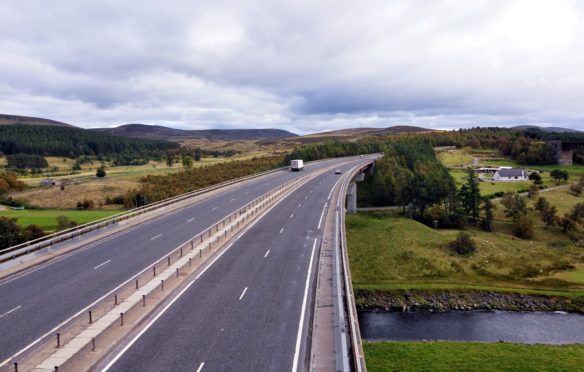 Major disruption on the A9 is expected as major maintenance works are carried out on the Findhorn Bridge.
The project involves replacing bridge joints, painting girders and an inspection beneath the bridge deck – meaning a contraflow system will be put in place from Sunday for three weeks.
The bridge carries the A9 dual carriageway across the River Findhorn and Bear Scotland say the work is essential to ensure it continues to operate safely for years to come.
The first phase of the project, which began last month, involves teams carrying out inspections beneath the bridge deck.
The second phase will begin on Sunday and will involve work to replace expansion joints on the structure.
A third phase will take place in the new year and will see some sections of the steel girders repainted to improve the longevity of the structure.
While the first phase has no impact on road users, the second phase will involve teams replacing the expansion joints across the full width of the bridge.
A contraflow system will be in place for safety during the project.
Motorists using the route should be aware that there will be a change over for traffic from one side of the bridge to the other in the second week of the joint replacement works.
Once the joint replacements are completed, the contraflow will be removed with single lane closures in place for safety for one week to allow teams to replace the manholes in the central reserve on the bridge deck.
In the new year, teams will begin work on the third phase which involves painting some of the steel girders with a new system which will ensure the steel is protected for years to come.
Eddie Ross, BEAR Scotland's north west representative, said: "This bridge improvement project will allow our teams to carry out essential painting and inspections beneath the bridge deck, as well as carrying out maintenance work to the expansion joints across both sides of the A9 Findhorn bridge, ensuring the bridge continues to operate safely.
"We've planned the inspections and the girder painting so that there is no impact to road users as our teams will be working from scaffolding beneath the structure.
"We need to have a contraflow system in place for safety when carrying out the expansion joint replacements as our teams will be working over the full width of the carriageway, however we'll do all we can to complete the project as quickly and safely as possible.
"We thank road users for their patience in advance. We would also encourage motorists to plan ahead before setting out by checking the Traffic Scotland website for up to date travel information and allow some extra time to reach their destination."