VIDEO: Highland rescuers split open rock and dig six feet underground to save dog trapped for four days
A Highland dog has been reunited with his family after being trapped underground for four days.
Monty the nine-year-old Jack Russell had a miraculous escape from danger during a daring 24-hour rescue that was ultimately completed by a perfect stranger.
The inquisitive canine went missing on Sunday afternoon during a walk with his owner Chris Blake, 38, in woods near Brahan golf course in Ross-shire.
Frantic Chris scoured the area with his other dog, a four-year-old Jack Russell called Murphy, but eventually had to admit defeat and head home.
Facebook appeals gathered a lot of momentum but further searches in the area failed until Chris's mother-in-law and sister-in-law heard the faint sound of barking in an area close to a disused animal burrow.
Chris said: "We had looked all over the woods for him for two days and were beginning to lose hope.
"It was Tuesday when we first heard the barking but the problem was it was from a very small hole on the edge of a cliff-face, down a six-foot deep crack in between the cliff."
Geologist Chris, who runs his own business – Blake Geoservices – in Dingwall, was able to put some of his skills to great use as he enlisted the help of some friends and work colleagues for the rescue.
They used 20 tonne hydraulic jacks to prise apart the rock. That made it big enough to get to the bottom of the crack in the cliff, where they could hear Monty's barking more clearly.
Chris said: "It got dark so we had to come back on Wednesday to remove more rock and dig further down. The barking was getting clearer and clearer but it was becoming evident that Monty was a good two or three metres into the hillside.
"So having just got down six feet, we needed to go in."
Junior geotechnical technician Louis Rae, 18, squeezed into the gap with a small spade and just kept digging and digging until he was out of sight of the rest of the crew.
He spent more than three hours on his belly before he finally caught sight of Monty.
Louis said: "Chris is my boss and I've known him since I was five so I knew all about Monty going missing and wanted to help.
"I kept digging and digging and eventually I could see his nose. And that was the point where we knew we were getting him out today.
"I was digging with my hands for three hours in this tiny cave, it was insane.
"When we got him out Chris was quite emotional. We all knew that we'd done well."
Chris added: "Louis was shouting 'I can see him!'. We managed to get some food to him but Louis couldn't seem to free Monty, and he was trying to bite him too since he must have been so scared."
It was around this time that good Samaritan Andrew Costigane, 27, arrived on the scene.
A dog lover, he was in the area to visit his mum and had seen appeals for Monty on Facebook.
With some time to kill, he decided to pop along to the woods to see if he could lend a hand.
Andrew said: "I didn't know them but I wanted to see if I could help. I don't own a dog but I've always had a special place in my heart for Jack Russells.
"I spotted the group and it was a shock to see the hydraulic equipment, the jacks, but you could hear Monty whining and barking."
As Louis was pulled back from the hole the group had dug by his feet, Andrew offered his assistance.
Chris said: "He was a bit smaller and skinnier than Louis so he thought he might be able to get a bit further. We said 'are you sure? We've only just met you and it could be dangerous but he just said "no bother" and in he went."
Andrew wriggled into the hole and after another half-hour of wriggling, he managed to get his hands on Monty's collar.
Andrew said: "Monty was whimpering and shivering, he was in a bad state.
"The rest of them were too far away to hear me so I just had to shimmy my way back out of there until I was close enough to them that I could shout at them to pull my legs back out."
As he was being pulled out, Andrew shouted that he had Monty with him and a huge cheer went out.
An emotional Chris could barely believe his eyes.
He said: "It was such a relief, there were tears, it was an incredible feeling to have him back.
"We really thought he was dead. When we heard the barking he had faint hope but I never imagined we'd be able to get him out."
Modest Andrew added: "I couldn't believe it. A few hours earlier I was in the woods shouting his name hoping to find something and now I was lying out of breath in a pile of mud, with Monty wagging his tail away.
"I'm just glad I was able to help in some way."
A trip to the vet's followed for Monty after his ordeal where he was checked over by Paco Morera, who runs Easter Ross Vets.
Paco said: "The poor soul was extremely tired, dehydrated and sore.
"When dogs are in this anxious stage, they aren't sleeping, they are using every ounce of energy left in the body.
"I think another night and he would have been a goner. After this length of time he certainly would have started to go downhill quickly.
"Monty is lucky he has such persistent owners who were not willing to give up, everything they had to do to get to him was pretty heroic."
Just a day after his incredible ordeal, Monty is back at home with his family, Chris's wife Lorna and their two kids, in Conon Bridge.
Chris said: "Monty's very adventurous, a bit of a rascal. We would've felt like we had failed him if we hadn't got him back but thankfully, it all ended well."
After days of online appeals, Lorna posted online: "He is dehydrated, looking a bit skinny and is sore but is currently outside soaking up the sunshine and having a good old sniff about.
"Another huge and heartfelt thank you to each and every person who put their boots on and walked that muddy route, to everyone involved in heroically digging him out of the hillside and to the thousand plus people who shared the original post and sent hundreds of messages.
"We are beyond grateful and will never forget the kindness and effort shown to help get our boy home."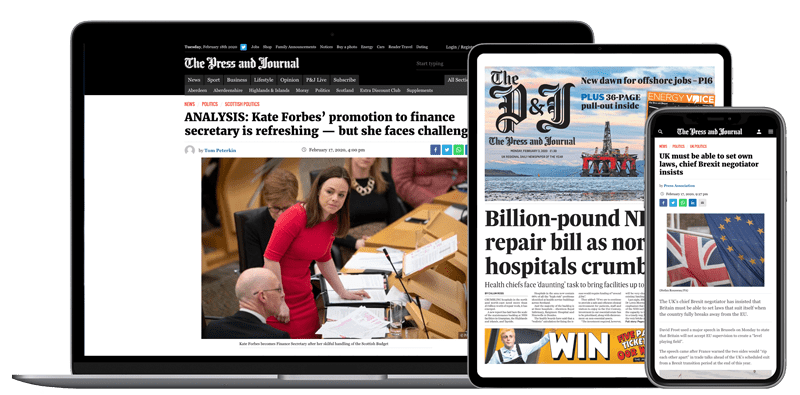 Help support quality local journalism … become a digital subscriber to The Press and Journal
For as little as £5.99 a month you can access all of our content, including Premium articles.
Subscribe