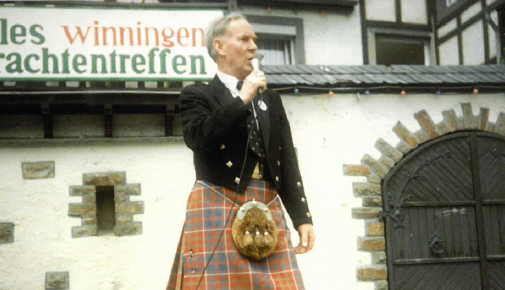 Traditional music fans are mourning the singing baker who was "bigger than The Beatles" in the 1960s.
Argo Cameron, who has died aged 90, was known as the "golden voice of the Highlands" as he performed before thousands all across the region.
Through his appearances on stage he developed such a following that the likes of The Beatles and Elvis Presley couldn't outsell him at north record shops.
A newspaper article in 1965 described how how the baker's biggest hit, Waters of Kylesku, was "selling like whisky at Hogmanay" with 1,000 copies being snapped up every week.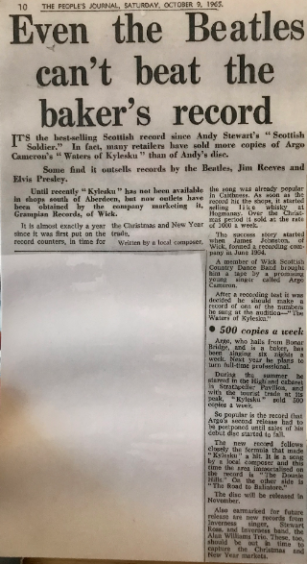 At the peak of his popularity in the 1960s and '70s, the kilt-clad crooner was a regular feature at the Strathpeffer Pavillion and a star performer at dance halls where ceilidhs were a common and hugely popular attraction.
And his talents also took him abroad, where he performed for appreciative crowds all over Europe.
The balladeer died on Thursday and his wife of 51 years, Rosie, last night remembered his career in the spotlight.
She said: "He was just a young laddie when he got started, when he was asked to sing at a ceildih near his home.
"He got involved with bands then and was encouraged to release his first record in 1965.
"Argo was all over the place in the '60s and '70s, I was used to him getting home from ceilidhs at about 2am.
"But in the morning, it was off with the kilt and on with the baking gear."
Mrs Cameron added: "His main song was Waters of Kylesku, and it allegedly sold more than The Beatles – in Sutherland anyway.
"He loved entertaining, and had a good life.
"Whether it's because he baked their wedding cake or they saw him perform, people will still come up to me to talk about him."
Doric doyen Robbie Shepherd came to know Mr Cameron through their shared passion for traditional music, and Mr Shepherd often played his records on the BBC radio show he hosted for more than three decades.
Mr Shepherd said: "To me he was the 'golden voice of the Highlands', his voice was ideally suited to the area he portrayed in his songs.
"He was so well-known in the Highlands, and he performed in Aberdeenshire as well, often with the Wick Scottish Dance Band.
"I'll remember him for that lilting voice and being a lovely guy."
Mr Cameron was born at Achnahanat, Strathkyle, in 1929 as the youngest of four brothers.
After leaving school, he moved to Bonar Bridge to start an apprenticeship as a baker. He then did two years of National Service, attached to the Army medical core's catering department.
On his return, he worked at the Kyle Bakery for 25 years, then took up the post of head chef at Migdale Hospital until retiring in 1995.
Known as the Singing Baker, his great love of music ran side by side with his working life and he recorded three albums and several singles.
And the kind-hearted entertainer was a popular visitor at care homes, where he would perform for free.
Mr Cameron retired form performing in 2010, aged 80.
He latterly lived in the Meadows Care Home in Dornoch, after suffering a stroke.
The singer is survived by wife Rosie, daughter Kirsteen, son David and his wife Emma and his adored grandsons Finlay and Rory.
Mr Cameron's tunes can be found on modern listening services such as Spotify, and his records are regularly in rotation at traditional music radio stations.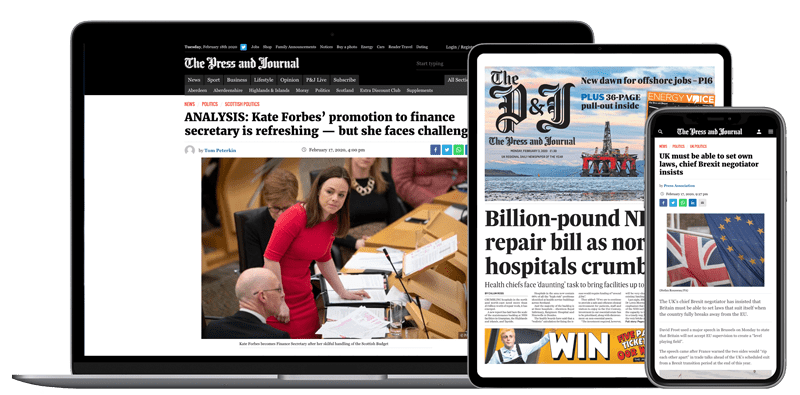 Help support quality local journalism … become a digital subscriber to The Press and Journal
For as little as £5.99 a month you can access all of our content, including Premium articles.
Subscribe