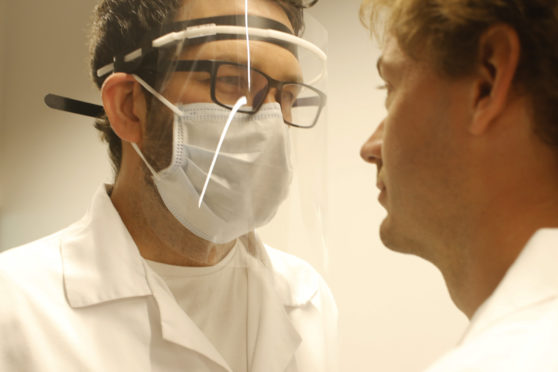 Two Highland companies have combined their skills to design a new safety visor which they say will both offer protection and be comfortable to wear.
Aseptium and 4C Engineering rapidly churned out the Corran I visor prototype in just one week following concerns the devices were badly needed to protect staff at Raigmore Hospital's Intensive Care Unit.
In an attempt to stem demand for PPE, the prototype was generated from materials readily available in lockdown to produce a simple, standardised design.
More than 7,500 visors were created following the establishment of an assembly line, and with the help of grants from local bodies.
The success of the initiative has now given the companies grounds to develop a new and improved model.
The entire design is ultra-light – weighing less than 25g – with each screen made from a clear material.
The visor features a wide flexible band that sits naturally on the head, making it comfortable for extended wear, whilst being easily assembled.
Pawel de Sternberg Stojalowski, of Aseptium, said: "Corran II proves that even PPE can be designed for comfort.
"Rapid development is a great adventure, and being able to perfect your design in cooperation with local suppliers is a great pleasure, especially when it results in our best product in this category to date."
Andy Hall, director of 4c Engineering said: "The Corran II visor is the result of engaging with and listening to frontline workers then tailoring a design to meet their demands.
"We balanced the need to produce a safe product with the desire to minimise weight and simplify the design."