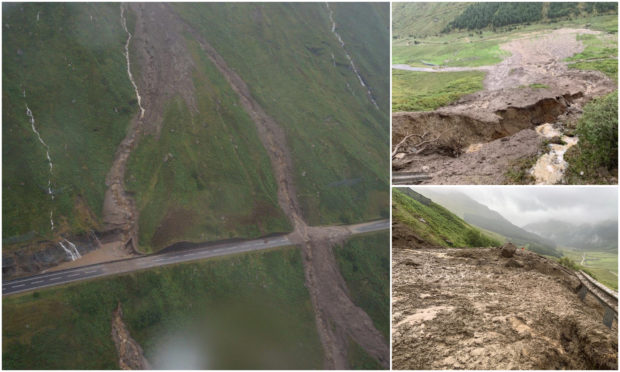 As vital routes through Argyll were closed by boulders the size of cars, the Scottish Government has been told it has failed the community and must make finding a permanent solution to the repeated landslips a priority at last.
Tuesday's torrential rain brought part of the hillside crashing down onto the Rest and Be Thankful route, on the A83 Tarbet to Campbeltown, for the second time this year.
And as 100mm of rain fell in a matter of hours, the usual diversion route via the Old Military Road  was also blocked due to debris.
Workers yesterday began clearing approximately 1,500 tonnes of debris on the A83, with around 2,000 tonnes of material washed onto the Old Military Road.
Motorists were forced to undertake a near 60 mile diversion via Tyndrum and onwards to Dalmally before reaching Inveraray.
In total, the landslip is thought to have moved around 6,000 tonnes of debris across the hill – the latest in a series of incidents over many years to blight the community.
Work has been underway in recent months to protect the roads from the repeated landslips causing travel chaos and complicating the lives of residents.
But yesterday frustrated local and senior politicians said the disruption was too much and addressing the landslips must become a priority.
In a letter to the First Minister, the leader of Argyll and Bute Council, Aileen Morton, asked the Scottish Government to make an immediate commitment to deliver a permanent solution after a 'decade of disruption'.
Councillor Morton said: "This is now the second landslide of the year that has closed the Rest and Be Thankful and resulted in disruption to a major trunk road, causing havoc for our communities, businesses and visitors.
"It is abundantly clear that mitigation measures taken by Scottish Government have yet again failed the people of Argyll and Bute.
"The issues on the Rest and Be Thankful have been debated, investigated, patched up and largely ignored for the last decade and we still find ourselves in this same position again.
There is no time to waste now. This is one of the most iconic routes in Scotland bringing millions of people to the area, a major route for commerce and a vital link for our communities.
"Above all, we are talking public safety, and the people of Argyll and Bute deserve better."
Those thoughts were echoed by Highlands and Islands MSP Donald Cameron, who said: "While we wait for further details of this incident, it is clear that despite millions of taxpayers' pounds being spent on landslip mitigation measures, the A83 continues to be blighted by disruption.
"This shows yet again the abject failure of the Scottish Government's policy of 'patch and mend'.
"Residents, communities and businesses across Argyll are completely fed up."
Geotechnical specialists were on site in the early hours of yesterday morning to assess the damage, with road operator Bear Scotland mobilising teams and specialist machinery to begin clearing the routes.
The road operator has said catch-pits – one of the recently installed mitigation measures –  prevented around 2,000 tonnes of additional debris adding to the chaos.
A Transport Scotland spokesman said investment of more than £13 million had been made on the Rest and Be Thankful, which has allowed the road to remain open for an estimated 48 days more than it would have been able to pre-investment.
And he said £79 million has been invested in the wider maintenance and resilience of the A83 since 2007.
He added: "We appreciate this will be scant consolation to those affected at this time and recognise that a permanent solution is key, albeit challenging, both from an engineering and financial perspective, in the current climate.
"The next taskforce meeting is due to convene next month."
Work to install further catch-pits is to begin next month.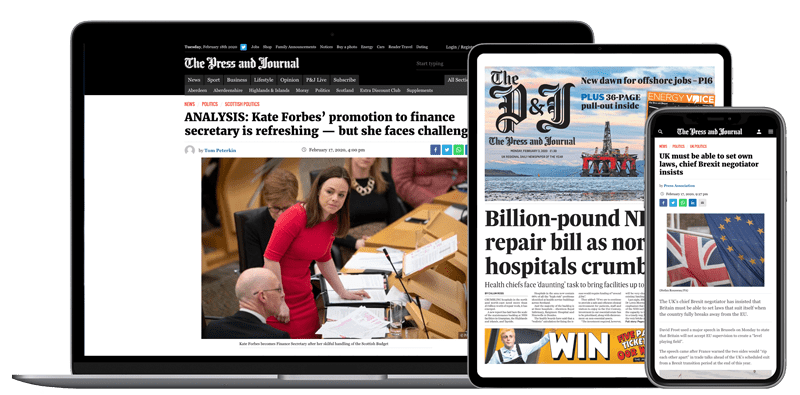 Help support quality local journalism … become a digital subscriber to The Press and Journal
For as little as £5.99 a month you can access all of our content, including Premium articles.
Subscribe