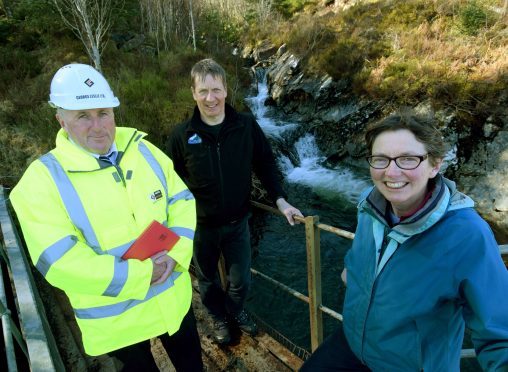 Nevis Range is hoping the mountain stays white for as long as possible to prolong the winter sports season, but it is also keen for the resort to go green.
It continues to snow on the hill making spectacular scenery and a great opportunity for weekend snow sports enthusiasts, as the company embarks on a very different type of development.
Construction has now begun on a £4million hydro scheme that will produce 1,100kW of green electricity.
The project is being developed by a subsidiary – Nevis Range Hydro Company Ltd – with advice from Green Cat Renewables Ltd and a loan from Close Brothers Leasing has enabled it to go ahead.
It will provide electricity for the base station at Nevis Range to power the gondola, the offices and the Pinemarten cafe. Any excess power will be exported to the grid.
George Leslie Ltd, of Glasgow, is the principal contractor for the scheme, which is made up of a small dam at 1,900ft in the Back Corrie area of the ski centre, just under a mile of pipe for a penstock, which will be buried, and a turbine house with two 550kW turbines.
An electric cable will be buried through the forest to connect the power house to Nevis Range base station, near Fort William in Lochaber.
After the water has been through the turbines generating electricity for Nevis Range, it flows back into the Allt Choille-Rais burn, where it drops into Rio Tinto's intake and plays its part in generating power for the smelter – so it gets used twice.
Managing director Peter MacFarlane said "This is an exciting project – to be part of a company that generates its own power in an environmentally friendly way ticks all the right boxes for a ski area and visitor attraction in this beautiful location.
"Added to the existing biomass boiler that heats the base station, this will reduce our carbon emissions, something that matters to a company that utilises the weather to make its living."
He added that it would also reduce the resort's electricity costs.
Nevis Range Hydro Company Ltd director Marian Austin said it would be a challenging scheme to construct because of the steep terrain and the isolated, wild nature of the site.
She said "Specialist machinery and helicopters will be used to minimise damage to the Corrie, which has various environmental and landscape designations."
The scheme is due to be up and running by the end of November in time for the next ski season.