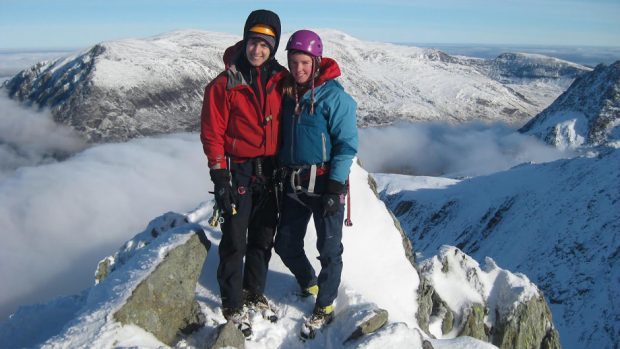 A camera belonging to tragic Valentine's Day climbers Rachel Slater and Tim Newton has been found on the Highland mountain where they perished.
They were buried together in April near the slopes of Ben Nevis.
Now it has been revealed by the mountain rescue team that determinedly searched for them, that the couple's camera was discovered near the spot where they were hit by an avalanche.
The camera was still working and contained the picture of the couple together on Ben Nevis on a previous trip that was issued during police appeals for information about the pair while they were missing.
It was found by Lochaber Mountain Rescue Team (MRT) member John MacRae while on a trek up to the 4,412ft mountain's North Face.
Lochaber MRT leader John Stevenson said: "It was obviously a very poignant reminder.
"The camera was still working, the battery was charged, and their pictures were on it – including the one of Rachel and Tim on the mountain.
"All their photos were on it of them together.
"It was in a bag which had kept it dry.
"We are not sure who it actually belonged to – we think it may have been Tim's. But we have given it to the police to pass it on to the parents."
He added that their hats and gloves were also found.
Mr Stevenson said: "It was in the area where they were discovered and there may be even more of their equipment that will surface as more snow melts.
"We will never forget Tim and Rachel and we hope the photographs will contribute to their parents' memories of the pair."
Ms Slater, 24 and Mr Newton, 27, both from Bradford in West Yorkshire, were found on March 23, buried under a huge avalanche on the North Face.
They had been missing for more than five weeks and it is believed they were hit by the avalanche before they began their ascent.
The funeral of the two climbers was held amid poignant tributes by the rescuers who had desperately searched for them.
The service took place at Duncansburgh MacIntosh Parish Church in Fort William after which there was a collection for Lochaber MRT as thanks for their efforts.