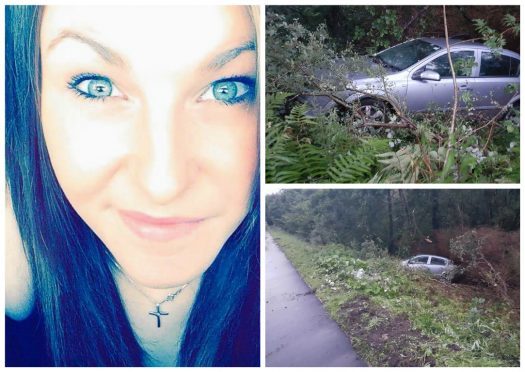 An accident black spot on a major Highland route is to be resurfaced after three vehicles slid off the road and plunged down the same embankment within 24 hours.
The move by Bear Scotland follows a desperate plea from one of the crash victims to "do something before someone is killed" on this stretch of the A82 Fort William to Glasgow road.
The Press and Journal reported the ordeal suffered by Mags Stewart when she was left hanging by her seatbelt in her overturned car after it skidded and rolled 20ft down the embankment between Onich and Corran Ferry in Lochaber.
And student Laura Tipping has now described the terrifying experience of her head smashing the window of her Vauxhall Astra when it hit a tree after plunging down the same bank less than 24 hours later.
The 26-year-old yesterday said: "The car started to slide like it was on black ice. It was totally out of control. I couldn't stop it.
"It rolled about 15ft down the bank before it hit a tree.
"I had my seat belt on but my head smashed through the driver's side window and hit the tree.
"It was really scary – a total nightmare."
She explained that she could not get out of the driver's door because it was up against the tree so she clambered over and climbed out of the passenger door.
Miss Tipping said: "I scrambled up onto the road. I was covered in mud and being sick, but no-one stopped to help.
"I only had 2% battery on my phone, but I managed to call my dad and he contacted the police and an ambulance."
She was taken to the Belford Hospital in Fort William, where a CT scan showed she had no serious injuries.
However, she suffered concussion, whiplash injuries to her neck, scratches to her face and severe aching and pain to the right side of her body for which she was given strong painkillers.
Miss Tipping, who is originally from Skye, is currently studying for an HNC in construction management in Paisley.
But she was staying with a friend in Fort Augustus while working for Cruise Loch Ness during her summer holiday when the accident happened at around 10pm on Wednesday.
She said: "I contacted Bear Scotland after hearing they checked the road earlier that day and found nothing wrong.
"I was really angry and told them: 'I went off afterwards which means there must be something wrong so can you please do it before there's a fatality on the road?'."
Miss Stewart, 28, of Fort William, suffered minor injuries in the accident involving her Vauxhall Antara 4×4 at around 11pm on Tuesday.
A Renault Expression car left the carriageway at the same spot just after 8.20am on Wednesday, but the driver was uninjured.
And it is understood that six further vehicles were involved in similar incidents at the location in the past month.
A spokeswoman for Bear Scotland said: "After being made aware of the incidents on Wednesday between Onich and Corran Ferry, a team was on site within hours assessing the area for any obvious problems.
"Although no visible evidence was found of the possible cause of the incidents, such as an oil spill, slippery road signs were erected and we immediately programmed a grip-testing survey of the area for the next day.
"Following the outcomes of the survey and discussion with Transport Scotland, we will retexture the road's surface to improve grip on the bend concerned and have arranged for the work to be undertaken on Wednesday."