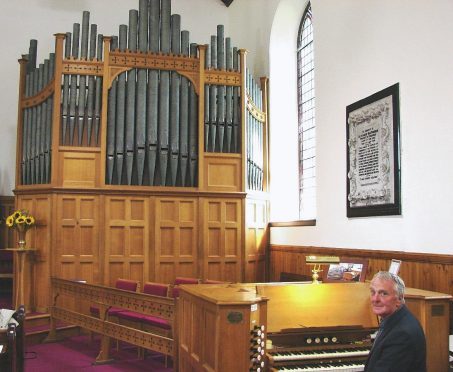 An historic church's beloved pipe organ is to be restored in time for Christmas – thanks to a £35,300 grant from the Heritage Lottery Fund.
The project at Kingussie Parish Church is being led by the Organ Restoration Team, made up of members of the congregation, and a local organ specialist.
The magnificent instrument, which was built in 1925 by the organ builders Evans and Barr and certified Grade II by the British Institute of Organ Studies, has played an important role in church and community life for about 90 years.
And the grant will assist in the cost of restoring it to its original operational condition.
It is hoped restoration work will start towards the end of next month with the organ refurbished in time for Christmas services.
The group also plans to ensure it is maintained for future generations and to tell its story in information leaflets so its heritage is not lost or forgotten through time.
It is keen to involve local school pupils in the process and is offering a bursary for a future budding organist from one of the local schools.
Kingussie High School elective music students have already started having regular lessons at the organ under the tutelage of church organist John Crombie.
High school pupils will also help produce leaflets and information boards chronicling events.
Meanwhile, primary pupils will learn about sound and gather interesting facts and memories about the organ from the local community for inclusion in the leaflets.
Eppy Mackay, of the Organ Restoration Team, said: "It is a wonderful feeling being in a position to progress our project and all that it entails. "Exciting times are ahead.
"We are indebted to the Heritage Lottery Fund for making this possible."