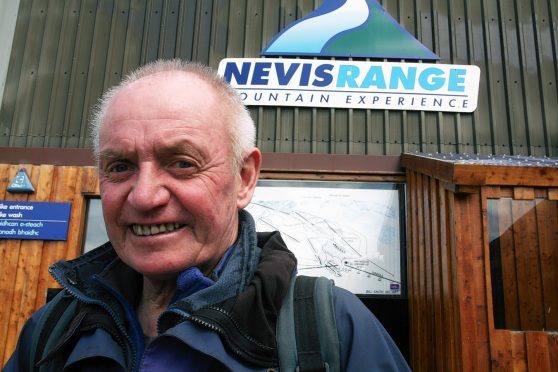 Sue Restan
The man who dug the first hole for the Nevis Range ski centre all of 27 years ago has retired from the resort.
Willie Anderson was the last member of the original team to finish working at the winter sports base near Fort William in Lochaber.
But although he was determined to retire before his 69th birthday, he achieved it with just a few days to spare.
He became involved in the project when his friend mountaineer Ian "Spike" Sykes returned from a trip to Antarctica and declared he was going to build a "ski place" on Aonach Mor.
Mr Sykes asked Mr Anderson, who was a painter and decorator, if he wanted a job.
He accepted and never looked back.
Mr Anderson, who was also a member of Lochaber Mountain Rescue Team for 45 years, said: "One day, in April 1989, we flew up to the top in a helicopter and started digging.
"When I started work on the project, I had no idea how it was going to turn out.
"I thought it was going to be a winter resort, but it snowballed and it is now busier in the summer than the winter."
He explained the biggest draw in the summer was the UK's only mountain gondola. Originally built to transport skiers from 300ft up to 2,150ft on the north face of Aonach Mor, it is now widely used by climbers, walkers, paragliders, hangliders and is a popular visitor attraction in its own right.
He added he had thoroughly enjoyed his time around Nevis Range, but remained unsure of his job specification.
And he joked: "I guess my official job title was 'Willie'.
"I'm a painter and decorator by trade, but I ended up being more of a fitter's mate.
"I was very versatile. I just did whatever needed doing. It was a great job for me, because I've been a climber all my life and I love being outdoors.
"I've seen a lot of changes and worked with a lot of lovely people. I didn't think I'd go on working here that long, but I carried on because I enjoyed it."
He explained he left the mountain rescue team a couple of years ago when his knees "gave up" on him.
As he explained: "I've got two new knees now and they're great, but I stick to easier climbing these days."
Mr Anderson added that he had been involved in sport all his life. At the age of 16, he was a talented gymnast, becoming Scottish champion and taking second place in the British championships to a gymnast who went on to compete in the Olympics.
He also played football and rugby.
As he said: "I just loved sport and was lucky to be able to play a lot of different sports."
Now, he intends to continue walking in the hills and doing easy climbs in his retirement, when he gets the chance.
But as he added: "My partner, June, has already given me a long list of jobs she wants me to do around the house."
He is also hoping to see more of his four children and eight grandchildren.