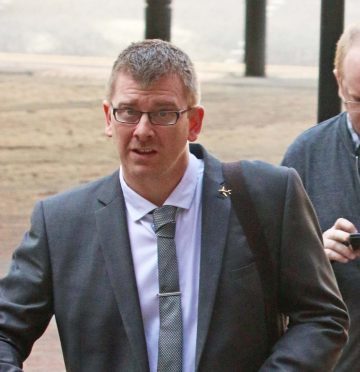 A Highland computer consultant has appeared in court accused of failing to ensure he was divorced from his first wife he allegedly married in Peru before taking a second in a seaside wedding in Yorkshire.
Self employed IT specialist Iain Theyers, 44, denies he was ever legally married abroad and is set to stand trial at Hull Crown Court.
Theyers, of Balloch Farm, Balloch, Inverness, appeared before Judge Jeremy Richardson QC, at Hull Crown Court charged with bigamy.
The full charged is "that during the life of your wife you went through a form of marriage with Louise Martin contrary to section 57 of the Offences Against the person Act 1861 at Bridlington, Yorkshire,  in December 2011."
The prosecution claims the Christmas wedding five years ago to Louise Martin-Theyers while still married was unlawful.
Mr Theyers appeared at court without Ms Martin-Theyers  but with two relatives for a scheduled plea and case management hearing.  He wore a grey tie and grey suit and spoke only to confirm his name.
His barrister Mrs Patricia Doherty asked the court clerk  not to put  the charge to Mr Theyers ass he had Peruvian documentation she still need to examine before she could advise her client.
She said there could be an application to dismiss the hearing.
Crown barrister Gordon Stables said the defendant had shown he was determined to stand his ground and arrangements should be made for a trial.
Judge Jeremy Richardson, QC, told Theyers: "This is an unusual case. I am told there is going to be an application to dismiss. We will wait and see in due course. In the meantime we have arranged a trial. If you do not turn up the trial may go ahead in your absence and that would not be to your advantage. Do you understand."
Theyers replied: "Yes your honour."
He walked free from court on bail. He is due to face a trail in March next year.