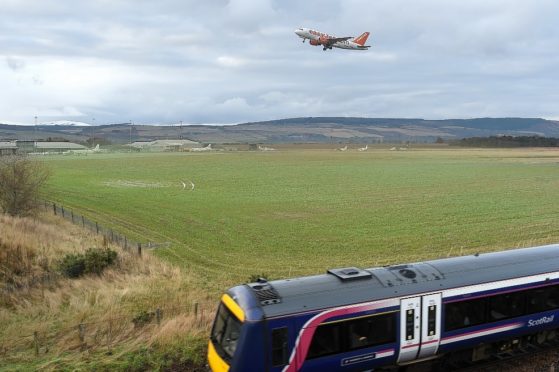 A new rail station at Inverness Airport could be built by next year after the plans were officially lodged yesterday.
The application for the £5million development at Dalcross has been submitted to the local authority after more than a decade on the drawing board.
The 568ft platform will be built by December next year, if the plans are approved, and the station will be open before the end of 2018.
The first phase of development will incorporate car parking for 150 vehicles, including park and ride facilities.
Frank Roach, manager of transport partnership Hitrans, said: "It's all about the future of the city and region.
"Inverness is expanding to the east and we're assisting that process by creating a railway station that can be used by people who use the airport, the business park, residents of Tornagrain, people who work in the area, people visiting the area, even Castle Stuart Golf Links."
He added: "This project has been in gestation since 2005, so it's really gratifying that there's light at the end of the tunnel.
"It has been a long time coming. The shovels haven't been in the ground yet and there's a lot of work to be done, but it's a significant step."
Under the plans, every train on the Inverness to Aberdeen route will stop at the station.
The development ties in with plans to have half-hourly train services between Elgin and Inverness, and an hourly service pattern between Inverness and Aberdeen.
Official forecasts have estimated that within 50 years the Dalcross station will overtake Elgin to become the busiest in the north, after only Inverness.
The proposed location of the development is adjacent to the C1017 airport access road, between the first and second roundabouts after leaving the existing A96, at the southern corner of the airfield.
The platform will be capable of accommodating high-speed trains with five carriages and two engine cars, as proposed by operators Abellio.
Hitrans hope at a later date that a second platform and a "passing place" for trains can be built at the new airport stop-off.
A rail station previously operated at Dalcross, opening in 1855 and closing in 1965, and was located near the existing level crossing beside Petty Church.
That level crossing will close as part of the plans, despite pleas from local residents that the move will increase their journey times.