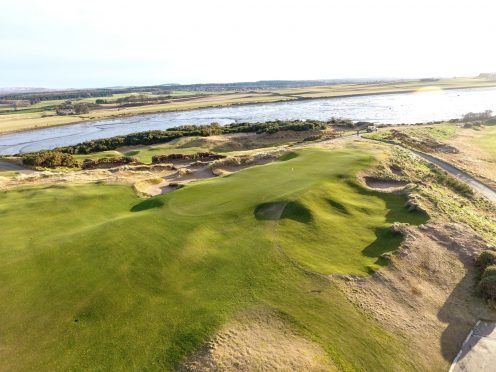 It is something that every golfer caught in a sand trap has probably wanted to do at one time or another.
And now, one Scottish championship course has found its own way to deal with the challenge of a difficult bunker – fill it in.
A new kind of challenge awaits golfers returning to play Castle Stuart next week when it opens for the season.
The bunker to the right of the sixth green – which has caught out hundreds of players since the course opened in 2009 – has undergone a makeover in recent weeks.
Top Scottish golfer Stephen Gallagher said the move will make the hole more enjoyable for high handicappers – but conversely, more difficult for top golfers, who will now face a tricky run-off area by the green.
The front part of the trap, which has a bank of between 3ft and 4ft in height, has now been filled in with nearly 300 tonnes of sand and covered with 400 sq ft of turf.
The change is part of Castle Stuart's ethos of making golf more engaging, fun and enjoyable for all standards of golfer – a topic covered in depth by industry experts at a recent conference in Inverness.
And the 560-yard par 5 hole still remains a testing prospect, with two new bunkers created at 320 yards at the start of last season and ahead of the Aberdeen Asset Management Scottish Open last July.
Yesterday Stephen Gallagher, who says Castle Stuart is one of his "favourite" courses, praised the move to fill in the green-side bunker.
He said: "I think it will make the course 'more linksy.' I am a great believer in a lot of run-off on links courses as it means you have to use your imagination. You might be thinking, 'I might use a rescue, I might 'blade it' or leave a putt short,' you have all of these options popping into your head, and probably more chance of not doing it.
"I think the best golf courses are those where you get elite pro's and high handicappers playing together. That is a proper golf course and great design."
Mr Gallagher added that he feels a good way to get back to the 'golden age' of golf course design would be to restrict the ball by 10% to allow golfers to play these courses again.
Golf writer and historian Adam Lawrence, founder and editor of Golf Course Architecture magazine and chairman at the Design Master conference, said: "Sometimes you hear pro's shouting 'get in the bunker' when they've missed a shot.
"Bunkers aren't much for these guys unless they are incredibly deep and steep, but they petrify high handicap golfers, so the reverse is to replace bunkers with very short grass that is fringe length, which makes it more playable for hacks, but a good player is trying to get spin and get the ball close off a tight lie."