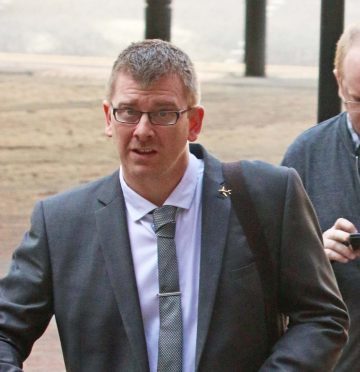 A judge has thrown out a bigamy charge against a former airport manager who wed in Peru after hearing his "sham marriage" certificate may have been bought on the black market for $50.
Judge Jeremy Richardson QC said although the conduct of IT consultant Iain Theyers was reprehensible, it would not be safe to convict him of bigamy.
Theyers, 45, married Peruvian Marian Belahonia, 38, in 2006 in the front room of her parents home, three days after her divorce, while she was pregnant with his child.
After returning to the UK with a visa for his wife who had been an illegal immigrant, the couple had a son in June 2007.
However, the marriage collapsed and they split up in October 2010 with him vanishing only to tie the knot with Louise Martin in a registry office wedding at Bridlington in December 2011.
Ms Belahonia, a Spanish teacher from Peru, tried to track down Theyers to file for divorce – only to spot a picture of him of his wife on Facebook after their marriage.
He was reported to police and charged with bigamy. But after a three-day trial at Hull Crown Court, Judge Richardson ruled the jury could not safely convict because his Peruvian marriage may not have been legal.
The judge said: "I have no doubt the defendant has behaved in a reprehensible fashion. He is not charged with immigration evasion and has not been charged with evasion of the marriage registrar. Although he does not come out of this well, I have misgivings about the validity of the marriage among the experts and that is not proper to leave to a jury."
Speaking outside court, Theyers said: "I am relieved it is all over. I am looking forward to carrying on with the rest of my life. I have been saying I am not guilty from day one. Louise is standing by me."
Officials confirmed he has yet to sign divorce papers for Ms Belahonia who has been left in catch22 – as if she marries again she could commit bigamy.
Theyers, of Balloch Farm, by Inverness, claimed he was in emotional turmoil when he met Ms Belahonia online soon after divorce from his first wife. Defence barrister Glenn Parsons accused Ms Belahonia of fixing an illegal marriage.
Theyers told police at the time he thought it was a legal marriage and so supported her claim for UK citizenship. However, he said by 2011 he sought legal advice to be told he had not complied with 8 of 15 legal requirements.
Giving his ruling of no case to answer Judge Richardson said the only issue in the case was whether there was a sham or lawful marriage. "There are so many legal lose ends about Peruvian law it cannot be proper to allow the matter to go before the jury. I am completely satisfied there is not case to answer."