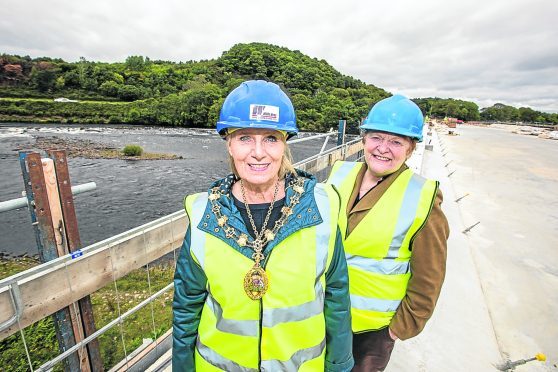 Dramatic new views have opened up with the latest milestone in the construction of a long-awaited Inverness bypass.
The West Link promises to slash vehicle numbers in the city centre.
And it is "on schedule for December opening," according to council leaders.
Leading councillors yesterday marked the latest phase of the project which has introduced new vistas to the route.
Inverness provost Helen Carmichael hailed the moment as a joy that drivers will cherish – for two reasons.
Speaking last night, she said: "I'm really excited about this new road.
"This has been a long time coming and it's magnificent.
"The new route has opened up that whole area. The scenery is beautiful.
"It'll be a wonderful expansion of Inverness – a whole new area that is very picturesque.
"Coming home tonight, Glenurquhart Road was log-jammed, back out past the new roundabout.
"It'll be great when, probably, half that amount of traffic soon won't need to come through the city."
The council has said the work is "on target and on budget."
The council agreed a £55million investment to progress the West Link while also enhancing sports facilities in the area.
While the upgrade is aimed at motorists, a healthy fun-run and cycle run are planned before the West Link opening to mark the occasion.
City councillors yesterday viewed the latest stage of work that began with a turf-cutting ceremony in May, 2016.
The West Link will connect the so-called "southern distributor" and the A82. To allow for the construction of a new clubhouse and artificial pitch at the Canal Parks, the Highland Rugby Club relocated to the Inverness High School playing field and changing rooms.
According to the council, the West Link "will reduce traffic congestion in the city centre, improve journey times and support active travel through new cycling and walking routes."