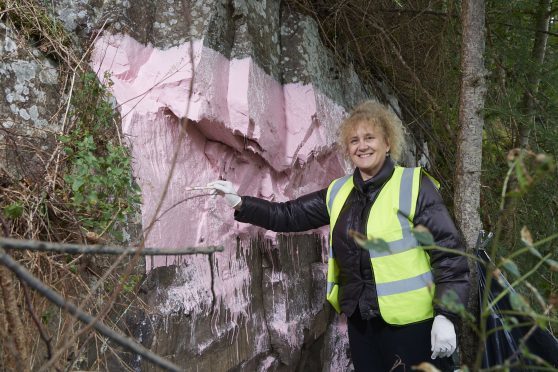 A new 7ft-high sculpture will be installed by the river in Inverness by next summer.
Annie Cattrell's work, called The Sculptural Destination, has been cast in resin form rock formations in the Great Glen, and it will be infused with bronze powder to shine in the sun or aritificial light.
The artwork is designed to frame a view of Inverness Castle when standing between its two sections at Friar's Shot, by the River Ness.
It is one of several works which are part of an overall £758,350 art project commissioned by the council's Inverness City Arts Working Group.
Ms Cattrell said the sculpture has been inspired by geology, folk law and the cultural need for predictions.
She said: "The Great Glen Fault is of great geological significance.
"One of the reasons being that it is the location and meeting of two distinct land regions (North West Highlands and Grampian Mountains).
"The Loch Ness area is still seismically active, the most recent earthquake taking place in the early 20th century reaching 4 on the Richter scale."
She has also drawn inspiration from Edinburgh born James Hutton (1726-1797), the "father of modern geology".
At Glen Tilt in the Cairngorms he found granite penetrating metamorphic schists, proving that granite formed from the cooling of molten rock.
And the Gaelic legend Brahan Seer, who made predictions of future events in the 17th century, has also proved influential.
He once said that when five bridges were completed over the River Ness there would be worldwide chaos.
Then, in August 1939 there were five bridges over the Ness and on September 1, Adolf Hitler's troops invaded Poland.
Ms Cattrell added: "The sculpture Seer would draw upon these ideas and embed them into the physicality of the sculpture, making an interactive place and space of two sections where people could stand between and envisage future positive dreams."
Chairwoman of the River Ness Arts working group, councillor Isabelle Mackenzie, said: "It will be a very special feature on the banks of the Ness for years to come and I am sure people will marvel and interact with the piece in many ways."
Ms Cattrell previously met representatives from the local community at a meeting in Inverness and listened to suggestions for how the sculpture should be lit and interpreted.
The artist was born in Glasgow and has trained at the city's School of Art, as well as the University of Ulster and the Royal College of Art, where she lectures.