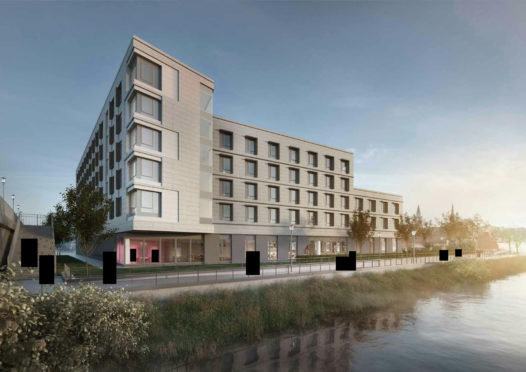 Plans have been submitted for a 170-bedroom hotel on the waterfront in Inverness city centre at a site which has lain vacant for 18 years.
Dutch firm Vastint Hospitality wants to build its Moxy Hotel – which would overtake the Kingsmills as the city's biggest – at the former Glebe Street swimming pool site which was demolished in 2000.
Inverness chamber of commerce chief executive Stewart Nicol said it would be a "significant addition" to the city centre, adding: "It's on a remarkably good site which has, frustratingly, been lying in its current state for too long. It's a good investment to the city for construction jobs and jobs in hospitality.
"It's good to see the addition of future beds to the city centre because it continued to be a real challenge to us throughout the year."
Speaking about the impact it might have on helping to stabilise room prices in Inverness during peak tourism months, Mr Nicol said: "It's supply and demand but it's sending out a message that is not really helpful and there are some real challenges around pricing when there is such a high demand for the city and that concerns me.
"The 170 extra rooms is a good uplift and we have got the new Travelodge in Academy Street and Tony Story's boutique hotel development (Patio Hotels) at the former service point as well. All of that is a very positive direction of travel."
A design statement produced by architects Keppie Design on behalf of Vastint,  says the hotel – six floors plus a roof terrace – would be a three star facility offering "affordable luxury."
It would boast a restaurant, bar and leisure facilities as well as 81 car parking spaces and 22 cycle spaces.
The design statement says the proposal represents a "major redevelopment of an important river front site within the city centre" and is viewed as a "catalyst" to improving connectivity in the area and beyond.
Earlier proposals also went to the Inverness Design Review Panel which provided feedback, including to ensure provision of attractive roof spaces for public and guest use and to safeguard and enhance the character of the conservation area.
The applicant also says the proposals are recognised under planning policy to promote the social, economic and environmental wellbeing of the area. It says the architects have achieved a sensitive yet contemporary hotel design using the latest cross laminated timber technology and that the project would respect the River Ness and conservation area.
The design statement says it fits in with the River Ness frontage which comprises buildings of varied height and style, such as the Mercure Hotel and BT building and various church spires.
However the plans have so far received one objection from a Louise Russell who said: "This building is another modern monstrosity. Big, square and blocky. Ugly.
"Certainly not fitting of a prime riverfront site such as this."