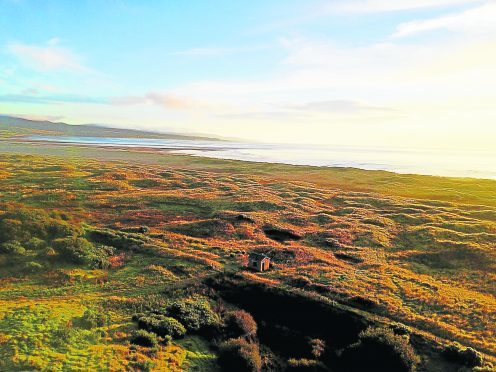 More than 1,170 objections have been lodged with Highland Council's planning department over controversial plans for the Coul Links gold course development in Sutherland.
A total of 339 letters have also been lodged in support of the 18-hole development, submitted in September by American businessman Todd Warnock and renowned golf course developer Mike Keiser.
Campaigners say the golf course will damage dunes and wildlife at a Site of Special Scientific Interest (SSSI), while the developers say they want to enhance the ecology of the site and stress that just 34.6 acres – 1.8% – of the whole SSSI would be impacted.
Supporters say it will boost local jobs in hospitality as golfers will be encouraged to say longer in the East Sutherland area and play other local golf courses.
Yesterday Tom Dargie, chairman of the Not Coul campaign group, said another 12,000 people who signed a petition against the proposals may still be trying to lodge their objections with Highland Council.
He said: "I think the numbers reflect the way in which people's awareness of these issues have really been heightened after the Trump development (Menie). There are differences between the Trump course and what's at Coul, but I think that this has driven the scale of opposition."
But Dornoch Area Community Council chairwoman Yvonne Ross said that, to date, the community council "has not had one phone call, e-mail or letter from any members of the public".
And she stressed that with previous major planning applications in the local community, including a flats development in the town's Square – which had more than 200 objections – and a quarry development in nearby Camore, she received "lots" of calls and e-mails raising concerns.
Mrs Ross said: "To my knowledge the community council has had nothing.
"The majority of locals are desperate for it. It's hard to find someone on the street who is against it."
But Mr Dargie argued that Not Coul has counted between 200 and 300 local postcodes – from Tain to Brora and Lairg – obtained through signatories to two petitions objecting to the plans.
A coalition made up of the Scottish Wildlife Trust, Buglife Scotland, Butterfly Conservation Scotland, the Marine Conservation Society, Plantlife and RSPB Scotland has also been campaigning to stop the proposals.
But the project took a step forward last month after it emerged that the Scottish Environment Protection Agency withdrew its objection after the developers provided more information following environmental concerns, including disruption to groundwater-dependent terrestrial ecosystems.