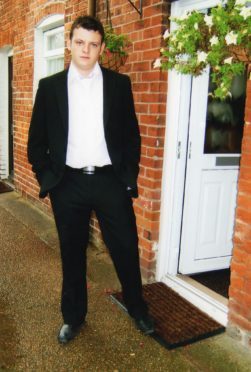 An Inverness man who died aged 20 is to be remembered this weekend as an annual charity Old Firm match is to take place in the Highland capital.
Shaun Scullion passed away from an aneurysm in 2006. Each year since his death Shaun's family and friends, Steven Corcoran, Jamie Kilpatrick and James Duncan, have gathered to remember their loved one and to host the football match, raising thousands for local charities in the process.
This year all funds raised will be donated to the Charleston Community Foundation.
Mr Scullion's mother Morag, who lives in Kinmylies in Inverness, said: "We are delighted to be holding the Old Firm match this year, which should be a great game as well as a bit of fun.
"The players for both teams, Shaun's Bhoys and Scullion's Bears are made up of Shaun's friends and family. We are really grateful to everyone who is taking part as well as everyone who has helped to organise the event.
"It's a fitting tribute to Shaun and it will also help to raise money for a very deserving charity, which does tremendous work right here in our local community."
Over the past 12 years, almost £12,000 has been raised for local charities through funds generated in Mr Scullion's name.
Kick-off for the match is at 2pm on the Astro Turf by Inverness Leisure on Saturday.
The match is set to take place a day before the two Glasgow giants lock horns for real in the first Old Firm clash of the season.