Two seven-foot monoliths – representing both sides of the Great Glen – have been unveiled on the banks of the River Ness in the Highland capital.
The project, called 'Seer', by Annie Cattrell is one of six artworks commissioned for the River Ness Public Art Project.
Ms Cattrell said she was inspired by the geological forms of the Great Glen fault which separates the two distinct land regions of the north west Highlands and the Grampian mountain, with the River Ness flowing between.
---
---
The standing stones have been placed on the river bank at Friar's Shott, yards from the busy Friar's Bridge.
The artist added its positioning was intended to frame views of the city and Inverness Castle, evoking the link between the city's past, present and future.
The sculpture is named after the Brahan Seer, who made a number of predictions about the River Ness.
Annie said: "I wanted to do something more positive, particularly for the young generations to come, than the Brahan Seer's usually catastrophic predictions.
"So I thought of the geology of either side of Loch Ness, which form two tectonic plates which came together to create the Great Fault.
"I want people to be able to stand between the two geologies and be a bridge between two continents.
"The geology is about the past, but also a metaphor for the younger generation bringing huge big ideas, the equivalent of tectonic plates, together."
Last summer, she took silicone moulds of a small section of the glen on both sides.
These were then created as monoliths in light-reflecting bronze-infused resin, cast in a London studio.
Inverness City Arts Working Group councillor Isabelle MacKenzie said: "The Seer is a fascinating sculpture which is based on both local geology and local legend, which enhances its meaning and its draw.
"It is very fitting that it will sit in this particular location on the banks of the Ness so that you can look through the stones up to the castle.
"I am sure that this will be a valuable addition to the cultural attractions of the Highlands."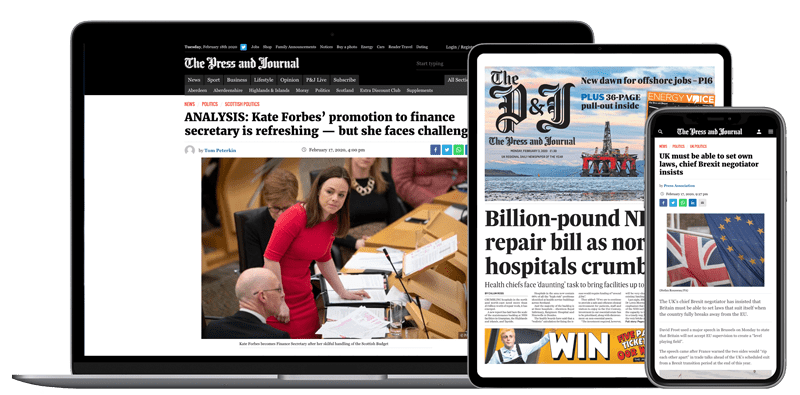 Help support quality local journalism … become a digital subscriber to The Press and Journal
For as little as £5.99 a month you can access all of our content, including Premium articles.
Subscribe