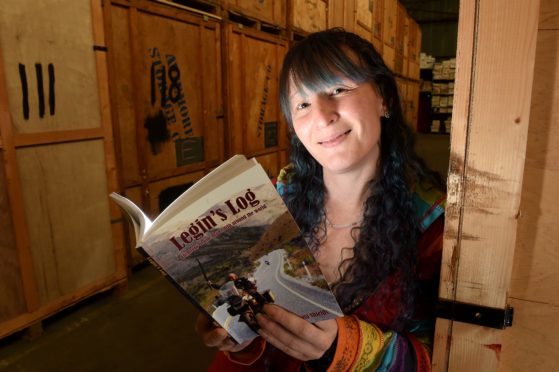 A 30-year-old single mum who was bullied over her dyslexia hopes to inspire others after facing her demons and writing a book.
Nakita Shields, of Inverness, suffered years of bullying and negativity as a youngster because of her dyslexia.
She said: "I hope that by writing this book proves anyone can overcome their own difficulties."
The mum-of-two was herself inspired to write the book about her father Nigel, who brought her and her twin brother up as a single parent.
He set up his own removal business in the city and then expanded into storage, eventually selling up the firm and travelling the world on a motorbike.
Nakita said: "His story is so inspirational too and I wanted people to know his story and have the belief that they can achieve anything."
She added: "I got bullied at school and was told I wouldn't make anything of myself, but I worked for my dad and have two boys.
"I got a lot of help by those at the Spectrum Centre in Inverness and now run courses on dyslexia for others.
"I had to use Google to get help spelling words, as well as use an app. I also got a lot of help from the charity For the Right Reasons, who have now published the book and it is selling really well.
"I have had a lot of inspiration messages already from people with dyslexia."
---
>> Keep up to date with the latest news with The P&J newsletter
---
The book is called Legin's Log – a story of one man's trip around the world, with Legin being the reverse of her dad's name Nigel.
Nakita said: "I fell writing the book has helped my situation immensely and I hope people will take something from it, either from my dad's story or from the fact a person with dyslexia has published a book."
The charity For The Right Reasons supports people in the Inverness area who have suffered drug and alcohol abuse.
They provide work in their print shop, charity shop and recycling centre as a means to build self-esteem and give the opportunity to learn new skills.
Richard Burkitt, of FTRR, who wrote the preface for the book, said: "Nakita has produced this book to tell everybody about her father's courageous journey around the world and to show that people with dyslexia can overcome all obstacles.
"In her childhood Nakita experienced much negativity and even bullying as well as complete misunderstanding of her dyslexia.
"Nakita is wanting to show the world, especially those who have dyslexia, that with a bit of imagination you can achieve great things. I love this book."