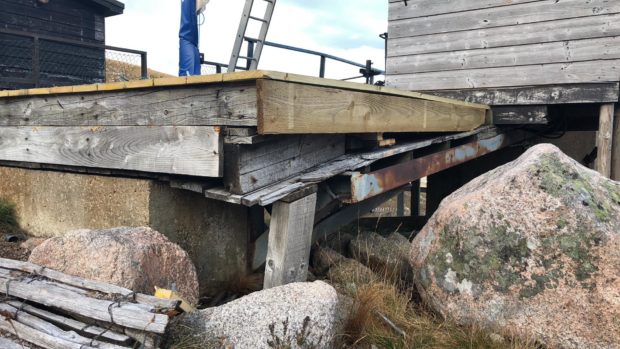 The beleaguered Cairngorm mountain resort has been hit by a health and safety headache that will likely leave tows out of action as the first snow of the season arrives.
Health and Safety Executive (HSE) inspectors have slapped three improvement notices on the Aviemore snowsports operation, stipulating two of the nine tows on the hill cannot be used until they are fixed.
HSE blasted now defunct operator Cairngorm Mountain Ltd for poor safety standards at the drive stations operating the West Wall Poma and Coire na Ciste tows, and said overall maintenance practices need improving.
Campaign group Save the Ciste (STC) raised the alarm to HSE and operator Highlands and Islands Enterprise  about the maintenance issues in November last year.
Alan Brattey of STC said: "A consultant engineer had detailed maintenance issues in reports complied in 2015, 2016 and 2017 and we had become aware that the necessary corrective actions had not been taken and public safety could potentially be put at risk."
HIE has until February 8 to remedy the problems – but with snow forecast for the coming days and the funicular railway still out of action, the resort needs as many ways of getting skiers up the hill as possible.
An HIE spokesman said: "HIE subsidiary, Cairngorm Mountain (Scotland) Limited (CMSL), inherited responsibility for resolving the notices when it took over operations on 14 December.
"The company is providing HSE with assurances regarding maintenance arrangements to all other tows, which are ready to be used in the event of snow. It is also addressing the issues raised with regards to the West Wall and Coire na Ciste, neither of which will be used until the work has been approved by HSE."
He added: "While the funicular is out of service, uplift on Cairngorm this winter will be limited compared to previous years.
"When planning a visit, we would encourage people to check the CMSL website and Cairngorm Operations Facebook page, where they will find regular updates on uplift and conditions."
Mike Dearman of Aviemore and Glenmore Community Trust, a community organisation whose long-term goal is to take over the running of the mountain, said: "We need a new model for Cairn Gorm because clearly what we've been doing for the last ten years is not working.
"That's why we're pushing hard with our plans for an overall vision for the hill which involves new lifts and new infrastructure to try and make it an asset for the area instead of this liability."
Meanwhile HIE says it will "soon" release an executive summary of the long-awaited engineer's report on the condition of the funicular railway.