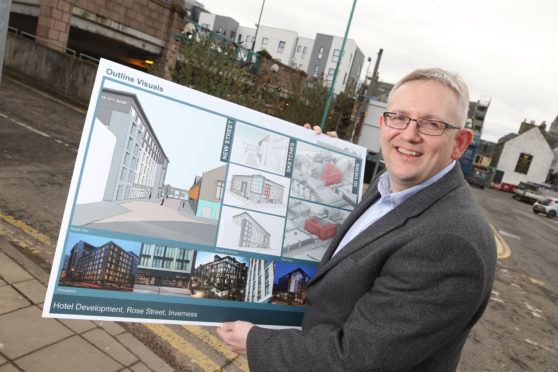 Plans for an elaborate £20million hotel in Inverness have been unveiled to help regenerate the city.
The proposed six-storey hotel would see the demolition of the existing two-storey open-air car park on Rose Street to make way for the global brand hotel.
The 210-bedroom property will be accompanied by a 30-vehicle car park to the rear and appropriate landscaping, as well as the construction of new bus and taxi road to replace the existing footpath linking the bus station with Rose Street.
During a consultation event at the Spectrum Centre in Inverness yesterday, the plans were unveiled for the first time, with developers hoping the new hotel will breathe life into the city.
Western Isles businessman Stewart Campbell and Director of SRP Inverness Ltd said he is looking for members of the public to help them create development that will "make the city block come alive".
He said: "The demand for hotels in Inverness is very high, even more so than it was back in 2009 and it's a great investment opportunity to transform the city.
"We want people to make sure it does transform the city and make the city block really come alive. I think the new street coming through, creating a new street is a great opportunity for the city; both for transport and for pedestrians because it's not the most beautiful area at the moment and I think there are some police concerns about the security of the car park.
"Hotels are great from a security point of view because they are 24/7, there are lots of cameras and there are always people and staff on site. The fact it's in the station quarter will open it up and make it accessible for both the train and the bus."
The development is estimated to cost around £20million with Mr Campbell hoping to see the hotel on the ground by the end of 2019.
Bryan McFadzean, Director of architectural firm CRGP Limited said: "There is no doubt it's a globally recognised hotel facility and an internationally branded hotel.
"I think the urban street into the heart of the city is key to this development. The opportunity to put a new street in the city centre is very rare and a big opportunity.
"The production of a new urban street in the heart of the station quarter will help put pedestrians and retail back on the streets."