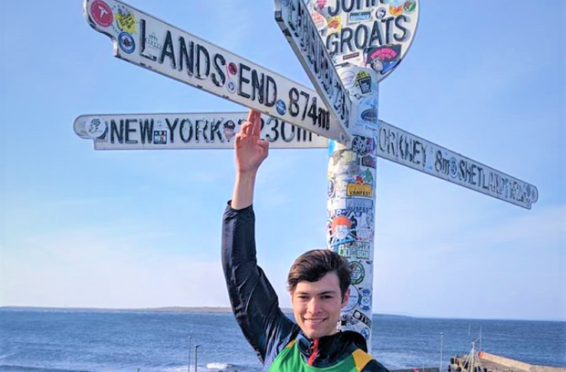 A young fitness enthusiast is set to travel the length and breadth of the Highlands this week as part of a 1,000 mile journey in aid of Childline.
Jack Lancefield, 24, from Epsom, began his journey from John O'Groats on Monday racing towards the finish line at Lands' End by May 11.
During the month long feat, he will travel through Scotland for the first time visiting various destinations in Inverness-shire.
Tomorrow, he will travel through Beauly, Muir of Ord and Dingwall before arriving in Clachnaharry, Cawdor and Inverness on Friday.
Mr Lancefield, who works for KPMG in London said he wants to raise funds in support of the young people less fortunate than him after being inspired through his company's charity partnership with the NSPCC.
He said: "I was fortunate enough to have a good upbringing but when I think of all the young people that the NSPCC support it makes me feel really sad. They'll constantly be at the back of my mind – every step is for them."
In preparation for the lengthy run, he says he has been trying to build up his mileage by running to work each day.
He added: "I'm running a lot but obviously I don't want to overdo it either and risk injury. Ideally I would have liked a couple more years of training but my employer's partnership with the NSPCC is for a limited time so I decided to just go for it.
"I've entered a few ultra-marathons to get my mileage up and understand what it feels like to be running for six or seven hours per day.
"I've also been running into work, from Epsom to KPMG in Canary Warf, which has helped a lot."
Various members of his family, including his parents, grandparents and friends will be supporting him through his journey by meeting him at various points during the trip to supply him with food, water, first aid, medical kits and extra supplies of clothing.
NSPCC Scotland Fundraising Manager Paul Cockram said: "Tackling the entire length of Great Britain is no easy feat and takes a huge amount of preparation and determination to fulfil this challenge. As with all of our supporters, we strongly value Jack's efforts and achievements in his fundraising and it goes a long way in our fight for every childhood. The calls answered while Jack is running could be life-saving ones."
Children's charity Childline gives children and young people access to confidential support when they need it and ensures they have someone to turn to when they are in distress or danger.