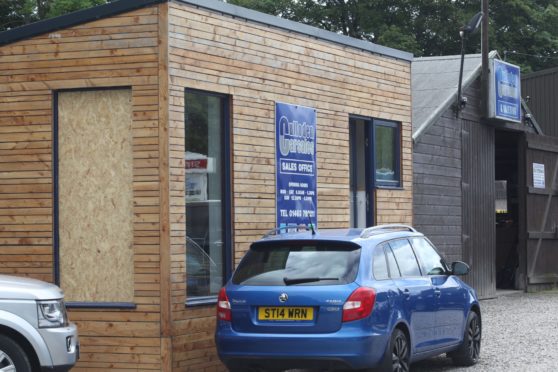 Police last night recovered one of three cars stolen in a raid on an Inverness garage after an image of the vehicle was posted online.
Culloden Car Sales was broken into over the weekend, with the culprits sneaking in between routine security patrols.
Officers trying to track down the stolen motors were alerted to a post on social media site Instagram in the late afternoon – which showed a Range Rover Sport stolen in the heist parked outside a property.
A spokesman last night confirmed that the car had been recovered and was "being examined".
Independent councillor for Inverness South, Duncan Macpherson, shared the news on his Facebook page and said the car was traced "thanks to an Instagram post".
He added: "A member of the public gave its location and now it has thankfully been traced."
Garage owner Donnie MacDonald said he believed it was a "targeted" raid.
He was woken up at about 3am yesterday by the yard's security guard who noticed one of the motors had gone from the courtyard.
A further inspection revealed the gang broke through the garage's reinforced glass to get to the keys before fleeing with the three cars.
The motors,  a green Ford Focus RS bearing the registration RS10 FOR, the grey Range Rover Sport with the number plate SO15 VRZ and a Mercedes Benz CLA 200 with
the registration FY66 STZ, are estimated to have a combined showroom price of £69,485.
It is believed they were taken some time between 8pm on Saturday and 2.30am yesterday.
Mr MacDonald said: "I am just gutted.
"I was woken up at 3.08am by a phone call from the security company who had noticed that one of the cars had gone during their second routine check of the night.
"It wasn't until after that call that they actually realised three of the cars had gone.
"They had broken the window at the side of the building so there was enough of a gap for them to crawl through.
"It really is gutting. You don't expect this to happen and it is just devastating.
"I don't really know if we will get them back. Fingers crossed we do, and we are doing everything we can do to get word out there and to capture people's attention.
"It does seem as if it was a targeted attack. The way it was done it would have taken a lot of people to take three cars away."
Staff at the dealership returned to work yesterday to clean up and it was business as usual.
Thousands of people have already shared the garage's Facebook appeal, which highlights the registration numbers of the vehicle and urges anyone who sees them to come forward.
Mr MacDonald added: "What can you do but push on and keep going.
"We came in this morning, opened up and tidied what was there, and apart from a bit of wood across the window and our appeals on Facebook, you wouldn't know the difference."
Police urged anyone who spots the cars, or has information about the break-in, to call 101.