Construction of a multi-million hotel at Inverness Airport is nearing completion with just a matter of weeks to go until it opens to guests.
The 130-bed Courtyard by Marriott will bring a welcome boost to the local economy providing 4o jobs.
With just eight weeks to go until doors open, general manager Ina Davies said she was grateful to have seen her "dream" come to life.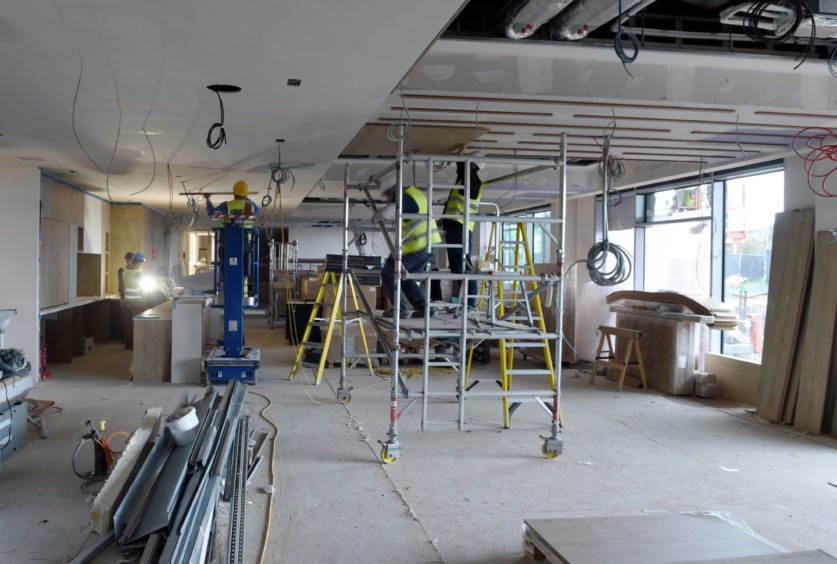 She said: "I feel that it's probably every general manager's dream to open a hotel and be there from the very beginning and to be able to have some kind of influence on the design, the fixtures and fittings, to even influence things like not having a room 13 because it's frowned upon in the UK, it's not overseas its common to have a room 13 but it's unlucky in this country.
"Seeing everything live, leaving here on a Friday and coming back on a Monday and seeing the amount of work that has been done, it's fantastic."
The luxury hotel – situated within Inverness Airport Business Park – will have 40 twin rooms, more than 60 double rooms and even some "kingsize" rooms.
The ground floor will home the main reception alongside the bar and bistro area, creating a "relaxed dinner service" feel for guests.
Paying customers will also be able to relax in the outside seating area in the courtyard of the hotel enjoying the sights of incoming and departing planes from just a stone's throw away.
Dorothy Green, director of sales, added: "To be the first airport hotel here, we are very excited. I have never been involved in the opening of a hotel before so this is the first opening. When I first started it was one floor so to see the fourth floor now and we have bedrooms we can show people, it's tremendously exciting."
Following a tour of the facility ahead of its opening in November, Stewart Nicol, chief executive of Inverness Chamber of Commerce said: "It's really good standard and it's great to see it in the final stages. It's a fantastic asset for the airport, it's really important for Inverness and the Highlands. It gives that extra dynamic and edge to travelling out of Inverness and gives people choice and that's really important."
Meanwhile, Graeme Bell, manager at Inverness Airport, said: "It's looking fantastic. It's a quality name, a quality hotel brand associated with the airport, fabulous quality of rooms and this is going to be a great addition to the airport. It's an addition that was greatly needed due to the increase in passengers numbers so it's going to be a fantastic facility to facilitate early morning departures."