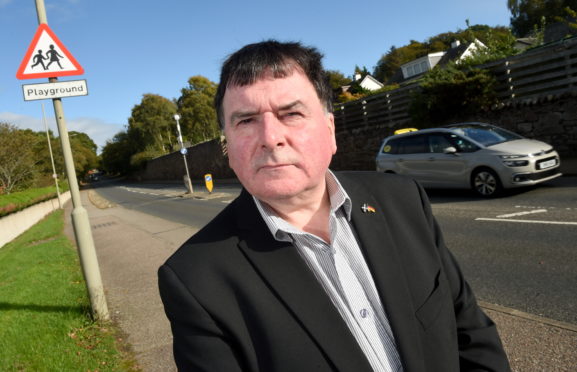 Inverness pupils' safety is being compromised with a lack of investment in school crossing patrollers to combat a rapidly-growing population – with more children walking next to busier roads, it has been claimed.
As housing developments continue to be appear across the Highland capital, with many more in the pipeline – putting extra strain on current infrastructure – the population of the city is expected to boom by thousands in coming years.
But Inverness councillor Ken Gowans fears that, as Inverness expands, Highland Council is failing to move with the times in relation to funding for crossing attendants.
He has called for an urgent review following accidents near schools, including a rush-hour crash last month on Culloden Road, near Cradlehall Primary – currently without a patroller through retirement.
Mr Gowans said: "Inverness is growing fast. As new developments spring up then new risks become apparent but measures need to be put in place to anticipate concerns.
"Road safety needs to be reviewed, especially around schools, as recommendations from head teachers appear constrained due to budgets.
"More patrollers and light controlled crossing points are essential."
Culloden Road, the scene of the most recent rush-hour crash, is experiencing a much higher volume of traffic than it has in the past, he said, adding: "It is a very busy road and getting busier.
"The priority must be to ensure children can cross safely. The absence of a crossing patroller clearly [at Cradlehall] compromises safety and increases the accident risk.
"The council's Independent administration need to consider the impact of their decisions on communities, the safety of school children should be never be compromised.
"I have asked the council's road safety officer to look into his. While this will come at a cost, we need to ask ourselves at what price safety? The council has a duty of care and that is all why people pay their Council Tax."
The number of Highland Council crossing patrollers is currently 60, compared to 63 in 2014-15, with expenditure currently at £281,808, up just £3,500 from 2014-15.
In Moray, crossing patrollers have been axed totally.
A council spokesman said: "The road safety team are aware of concerns and are looking at extra measures that can be put in place.
"Posts become vacant from time to time and the recruitment process can mean that post can be unmanned at times – this can also happen when there is a staff absence but the council is working to fill any provision gaps."
A Highland Land Audit has identified a programmed supply of almost 10,000 new homes in the region between 2018 and 2028, with the large majority to be in Inverness.
Over 800 homes are being constructed at Ness Castle, and hundreds more are under construction at Culloden West.
A recent council report states that in less than four years Charleston, Millburn and Inverness Royal academies will be over capacity.  Inverness High School is best off, with seven years before it reaches its limit.