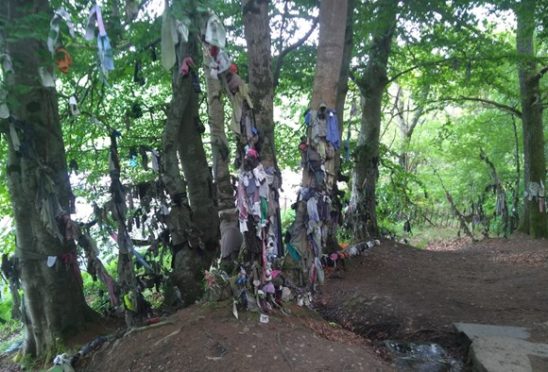 The filthy condition of an ancient pilgrimage site in the Black Isle has shocked a local resident into getting a community clean-up organised.
Annette George said she was reduced to tears when she visited the Clootie Well recently.
The Munlochy holy well is surrounded by trees and these have been decorated with hundreds of offerings, traditionally cloots, or cloths dipped in the holy water, by visitors looking for healing or for prayers to be answered.
But some of the offerings have gone slightly 'off-message', upsetting Mrs George.
She said: "The branches of the surrounding trees were weighed down with clothes, shoes, electrical equipment and even a venetian blind.
"It resembled a fly tipping site rather than an ancient holy well.
"That's how the idea of a community volunteer clean-up came about.
"I felt compelled to contact Forestry and Land Scotland to let them know of my concerns.
"People have also left sentimental messages and wish requests, so removing those cloots has to be done respectfully."
The clean-up will take place on Saturday October 26 between 12 and 4pm, organised by Forestry and Land Scotland (FLS) rangers and community groups.
Maree Morrison of FLS said: "The well is still a very popular site today but many of the offerings left by visitors are not biodegradeable cotton or wool – plastics and polyesters won't rot away so they won't be much help."
She is available for more information at maree.morrison@forestryandland.gov.scot