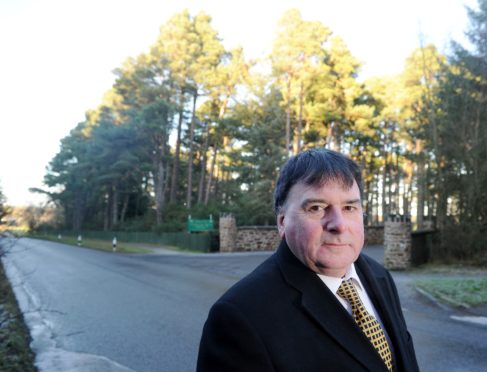 Highland councillors will have a sense of déjà vu next week when they are confronted with a fresh application to develop a holiday village near Culloden battlefield, months after the council turned down a similar proposal.
The original £1million proposal for four-star holiday lodges and a 100-seat restaurant at TreeTops Stables, Faebuie, on Culloden Moor, caused an outcry from campaigners trying to stop development close to the battlefield, with almost 100 objections lodged.
The council turned it down in May.
South planning committee councillors will on Tuesday be asked to comment on a fresh  proposal for the site, at this stage containing scant details about what is proposed.
It is simply described as 'holiday let, leisure and hospitality facilities, holiday lodges, service building, restaurant, landscaping.'
The original application was turned down on a number of environmental and heritage policy grounds.
Campaigners say the location is where the government troops 'saddled up' before going into battle against the Jacobite Army supporting Bonnie Prince Charlie's claim to the throne in 1746.
Local councillor Ken Gowans said the new application will need to be different.
He said: "This is likely to be a controversial application given this area of land falls within the Culloden Conservation Area as well as the Historic Environment Scotland inventory of historic battlefields boundary.
"Presumably it will reflect on the reasons for refusal of the earlier submission.
"As with all applications it will be determined on its merits against planning policy, I wait with interest for more information."
Developer Inverness Paving has not responded to a request for comment.
Meanwhile early proposals for another development just outside the Culloden muir conservation area have been lodged by Kirkwood Homes.
The company caused an outcry from campaigners when they built 16 homes at Viewhill, on land now within the conservation area.
Kirkwood now wants to build a mixed use development on a 30 acre site at Newlands of Culloden, near Little Cantray.
Although just outside the conservation area and Historic Scotland Inventory of Battlefields boundary, Mr Gowans pointed out the land is not on the current local plan for development.
He said: "Therefore this appears to be a very premature application as it represents an area of land that is under review as a mixed-use addition to the Inner Moray Firth Local Development Plan (IMFLD) to be included in the council's recent Call for Sites, and this is a long way off being decided."
Professor Christopher Duffy, from the Historians Council on Culloden, said: "Any development to the south of the B9006 would destroy permanently the perception of events of direct relevance to the battle of 16 April 1746."