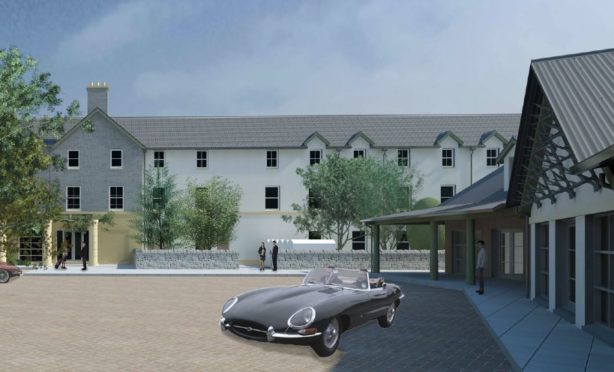 The entrepreneur behind retail, leisure and accommodation proposals for a Highland village has made a plea to the local distillery not to fight him over the name of the development.
William Frame of the Tomatin Trading Company has asked Tomatin Distillery "not to jeopardise our £12m development with a name squabble".
Mr Frame, who plans to create a 99-bedroom hotel and 200 seat restaurant at the Tomatin junction on the A9 said he was "extremely disappointed" to be taken to the Court of Session by the distillery over the Tomatin Trading Company name, the sale of Tomatin jam, and having Tomatin Café on staff aprons.
Tomatin distillery managing director Stephen Bremner said that while the distillery welcomed and support the development, it objects to the proposed branding.
He said: "We believe it takes unfair advantage of our reputation and we have repeatedly asked Mr Frame to reconsider.
"Tomatin Distillery has a rich heritage spanning many generations.
"We firmly believe we must protect our valuable brand, which is inherently associated with our distillery and our whisky as a result of over 120 years of dedicated craftsmanship."
But Mr Frame, who runs Braemore Estates in Crieff,  said the distillery cannot claim sole right to the place name.
He said:  "We have kept the distillery fully informed of our plans from the very start, and had planned to have their whiskies as a showcase in our retail shop and bar."
"I feel this should wholeheartedly be about helping and promoting the local community, promoting the village of Tomatin, giving young people jobs that are sustainable and getting young people back into the Highlands.
"There is no attempt or intention to associate ourselves with the distillery, and no-one I have spoken to considers that there would be any confusion about this."
He said he had already invested heavily in his brand's distinct identity, not forseeing any issue with referencing the location of the development.
He went on: "Numerous businesses in the past here have referenced the name Tomatin, such as the Tomatin Petrol Filling Station, and The Tomatin Little Chef.
"Indeed, the Tomatin Estate itself was there long before the Distillery was established, and originally sold them the ground. There was also the Tomatin Railway Station which closed in the 1960s."
Local councillor Duncan Macpherson said he did not wish to see the development jeopardised.
He said: "There's so many jobs riding on this £12m development, at least one hundred in the first construction phase, and then permanent jobs afterwards. The mix of both full-time and part-time jobs is ideal for local people, and would make a huge difference to the local Strathdearn and Tomatin economy."