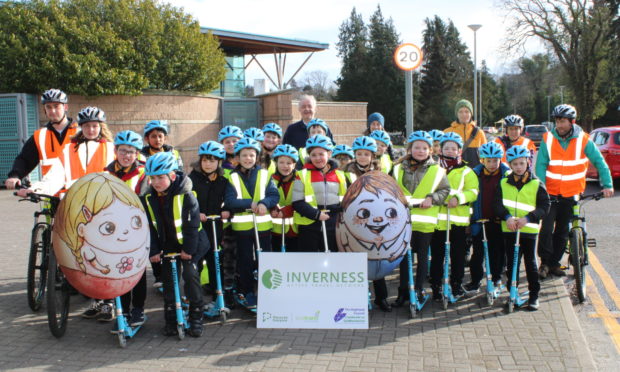 A new 20mph speed limit has come into force in the Ballifeary area of Inverness today.
The limit is being implemented on a total of 21 streets in the Bught and Ballifeary area including the riverside route to the Leisure Centre and Bught Park.
Funding has been supplied by the Scottish Government, through Sustrans, as part of the Riverside Way phase of the Inverness City Active Travel Network project in a bid to introduce safe cycle routes, walking opportunities and links to nearby neighbourhoods and amenities.
The Inverness West Ward councillors have all welcomed the new scheme which has support from the wider community and local stakeholders.
Councillor Alex Graham said: "Young people want to walk and cycle more. The new 20mph speed limit aims to create a better environment for more active travel journeys and ensure improved road safety through lower vehicle speeds.
"The new limit applies to 21 streets in the Bught and Ballifeary areas – probably the largest 20mph scheme to date in the Highlands – and as local representatives Graham Ross, Bill Boyd and I are delighted this has now come into force."
Implementing the 20mph scheme
The new limit will include some traffic calming measures, in the form of 3 sets of speed cushions on Bught Road near the sports pitches. These will help reduce speed in an area where vehicle speeds need to be reduced.
There are many benefits to slower traffic speeds, which will make Ballifeary more pleasant for local residents and visitors to the Bught Park and local amenities.
Reduced congestion
Research indicates that vehicles flow more smoothly through junctions at slower speeds, meaning with potential for less time spent waiting at key junctions.
Lower emissions and better air quality
As a result of reduced acceleration and braking, 20mph may help to reduce fuel consumption and associated emissions. While these will be small improvements initially, the changes over a year of driving will add up.
Some environmental benefit from the change is expected from helping to unlock the potential for walking or cycling short distances instead of driving.
Signs deliver lower speeds
National evidence has shown that sign‐only 20 mph speed limits can help to reduce average speeds and improve safety.