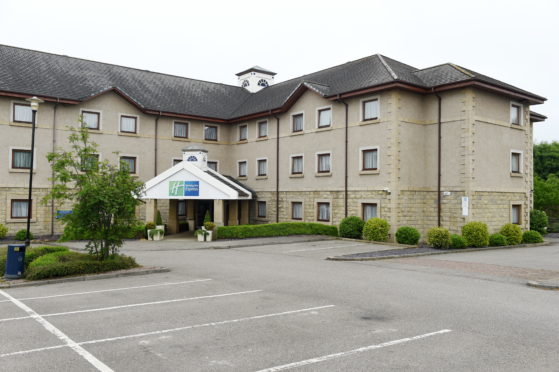 Bosses at a north hotel have breathed a sigh of relief as the resumption of construction work has resulted in a much-needed increase in bookings.
The Holiday Inn Express at Stoneyfield business Park in Inverness welcomed its last flurry of guests in March – before closing the doors in response to Covid-19.
However, following demand for accommodation from workers in the health sector and building trade, owners Atlas Hotels decided to reopen to support essential workers  needing a place to stay in the city.
With construction workers now returning to work as part of phase two of the government's roadmap, the hotel has welcomed an influx of guests – with dozens of vehicles now occupying its formerly barren car park.
Chief executive of the firm, Sean Lowe, said: "We opened the Holiday Inn Express Inverness on June 4 strictly to support key and essential workers during this difficult time.
"This decision was in response to inquiries from various groups, health workers, utilities and construction who needed to work and required safe accommodation.
"Since day one we've had extremely strict policies around the cancellation and turning away of anyone travelling for leisure.
"It is our objective at Atlas Hotels to support our communities across the UK during this difficult time, but safely and responsibly."
To maintain the safety of staff and guests, a series of strict measures have been imposed.
Mr Lowe added: "We no longer serve any food or beverages in public areas and our 'grab and go' breakfast replaces the hot buffet.
"There are safety screens, revised check-in processes that eliminate any contact, safety gel stations, 2m markings and signage. There are extra room cleaning guidelines that have been introduced.
"Finally, we've also carried out confidential risk assessments on all staff so that we are not requiring anyone at risk to return to work at this time."
Local councillor Duncan Macpherson said: "After seeing to many empty hotels, and some that just had a token light on, to see the car park full again was surprising. It was as if someone had switched the business back on.
"It's encouraging this hotel can do it and hopefully other hotels and establishments can learn from them.
"It's important business gets back operating, but also that we don't allow the coronavirus the opportunity to escalate again."