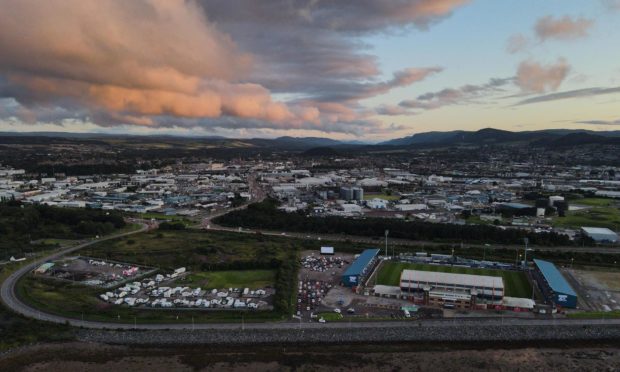 Families seeking a fun Christmas event this year are being offered the chance to take in some film favourites as drive-in cinema returns to Inverness in late November.
The car park of the Caledonian Stadium was the venue for four nights of screenings on August and they proved a great success.
Behind the venture was Callum Campbell, who diversified his boxing business to offer a taste of the big screen to keen moviegoers, all from the comfort of their own cars.
Now he is planning a return, with films such as Elf, Home Alone and Die Hard to be among the offering, with the event to run from Monday, November 23 to Thursday November, 26.
Mr Campbell said rave reviews for the initial run and the close-knit community were key factors in the event returning to the Highland capital.
FILMS ON SHOW



Monday November 23
5.30pm – Elf
9pm – Love Actually

Tuesday November 24
5.30pm – Home Alone
9pm – Die Hard

Wednesday November 25
5.30pm – The Grinch
9pm – It's a Wonderful Life

Thursday November 26
5.30pm – The Polar Express
9pm - National Lampoon's Christmas Vacation
He said: "Inverness just seems to have this really tight-knit community.
"The engagement on the Facebook pages and the local pages is great.
"We have had really positive feedback, so we were very keen to come back."
Mr Campbell said he'd made his first visit to Inverness for the original screenings, describing the experience as "great".
He said the space at the stadium had been excellent for the event, but he hopes to "smooth out" some of the glitches from the first run.
"It worked well last time but we are going to be tighter in parking cars and we are staggering arrivals so some will arrive at say 8pm and others at 8.20pm just to make the transition a bit smoother and ease the flow of traffic," he said.
"It is going to be a bit more Christmassy too of course, but we are really just redeploying the blueprint.
Staff will don Christmas outfits, with a festive-themed menu on offer for the showings.
Curtain comes down as hundreds descend on Caledonian Stadium to sample drive in cinema
Mr Campbell added: "We want to give people a night out that is safe.
"So much stuff has been cancelled but I feel this is fairly Covid proof because you are in your car, it can only be your household and windows can only be put down on the left-hand side of the vehicle – so you are effectively creating a bubble.
"It is sure to be an exciting time and we are delighted with the films we are able to offer."
Early bird tickets for the event have already sold out but a second batch will go on general sale at 7pm on Monday.
They are priced at £32 per vehicle and can be purchased from: www.tickettailor.com/events/thedriveincinema
Mr Campbell has said he hopes to continue the venture once restrictions are eased and is hoping to offer more recent releases in the not too distant future.