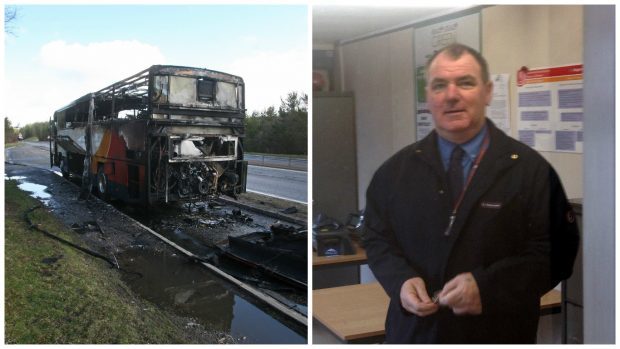 A hero bus driver evacuated his passengers to safety as he feared the vehicle was "about to blow up" as it became engulfed in flames in a layby off the A9 near Inverness.
Jamie Frew noticed smoke billowing out from the back of the Stagecoach vehicle, and a flicker of fire, as he made a routine wing mirror check while travelling just south of Daviot.
The 45-year-old driver from Aviemore pulled into the nearest lay-by and acted quickly to help each of his eight passengers off the vehicle.
Within minutes a Megabus service, travelling south via Aviemore and Newtonmore, pulled over and took all the passengers on board and on to their destinations.
Yesterday Mr Frew said that his priority was to evacuate all of his passengers and take them "a safe distance away" from the burning bus, adding: "It was in the back of my mind that the fire was spreading so quickly. I tried tackling it myself and went and opened the back engine lid and I thought, 'this is going to blow and it's going to get worse.'
"While I was doing that it was a godsend that the guy in the Megabus stopped. I was so chuffed that all of my passengers were okay. It had started snowing and you don't want them all sitting out there in the cold and freezing. Some of them are elderly as well.
"I phoned emergency services and they assured me they were on their way, and then I thought, 'I am moving to the other side of the road.'"
Two fire crews were sent from Inverness to battle the flames using specialist equipment and breathing apparatus, at about 1.30pm on Saturday.
A spokeswoman for the service said afterwards that the bus had been 80% destroyed during the blaze. It remains unclear what caused the fire.
Mr Frew, who has been a bus driver for about a year, was taking the M91 Stageoach service from Inverness-Newtonmore when the incident occurred at about 1.10pm on Saturday afternoon.
He was checking his mirrors as the road merged from dual to single carriageway and noticed the flames and smoke coming from the back of the vehicle.
Mr Frew said that he had driven the same bus between Kingussie and Bruar on the Friday and had carried out his morning checks as usual.
He added: "We go round the outside of the bus checking for any specific damage and check the engine for coolant and the last thing we do is check inside, but nothing was taking me."
The fire was brought under control about 50 minutes after it was reported.
Traffic was restricted on the A9 in both directions for about 45 minutes because of the hazardous conditions caused by the smoke.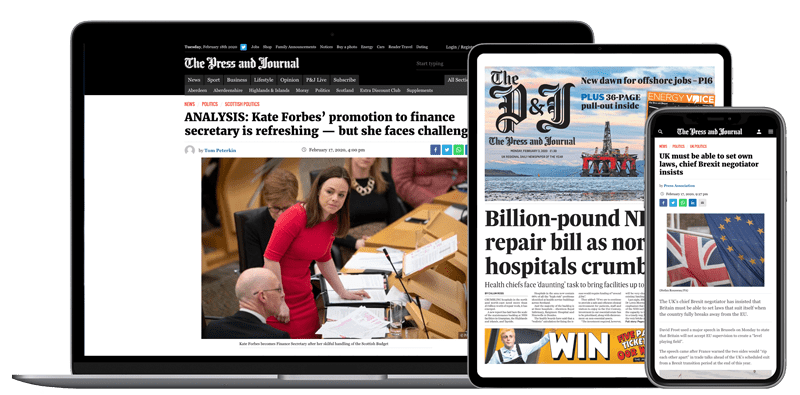 Help support quality local journalism … become a digital subscriber to The Press and Journal
For as little as £5.99 a month you can access all of our content, including Premium articles.
Subscribe