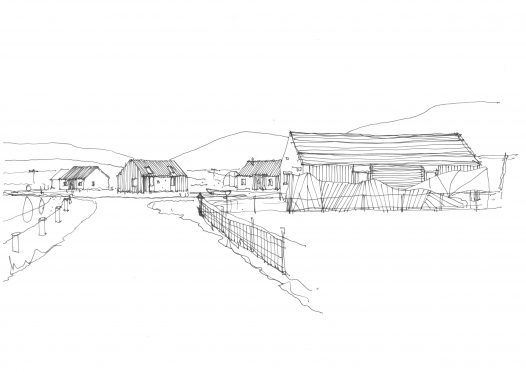 Designs have been revealed of the first affordable homes to be built in a north Skye community for nearly 20 years.
Staffin Community Trust is progressing plans for six new houses and business units at a site on common grazings at Stenscholl.
The organisation is working in partnership with the Highlands Small Communities Housing Trust and Lochalsh and Skye Housing Association to deliver the new affordable houses, which would be the first built in Staffin since 1999.
Work is currently progressing towards submitting a planning application to Highland Council with local architectural firm, Rural Design.
On Saturday, the latter's architect, Alan Dickson, discussed the proposed site layout and design at a community consultation drop-in event in Staffin.
Local residents were able to comment on the development at the SCT office. Anyone who was unable to attend can call into the office this week, from Monday to Friday between 9am and 5pm, to view the plans.
The site for the homes is on ground tenanted by the Stenscholl Township.
SCT has held discussions with the township group and will have further talks as the project develops. It is hoped to submit a planning application to Highland Council by the end of the month.
The Scottish Government's Rural Housing Fund and the Scottish Land Fund awarded grants last year to allow SCT to progress the development and appoint an architect.
A major affordable housing needs report on Staffin was published in 2014, funded by Highland Council and Highlands and Islands Enterprise. It identified a need for homes to arrest the area's population decline and falling school roll.
Staffin Community Council and MSPs, Kate Forbes and David Stewart, are both supportive of the project.
Ms Forbes said: "Building news homes is critical for the future of this community which is why I'm delighted to see this consultation taking place. I would encourage everyone to look at the plans and make their views known.
"We know that, within a decade, the local primary school might be empty, so building new homes – allowing families to stay as well as attracting new ones to the area – is vital.
"I am of the belief that, in order for the Highlands to flourish, we need to encourage people into the area and for that to take place, we need affordable and sustainable housing."