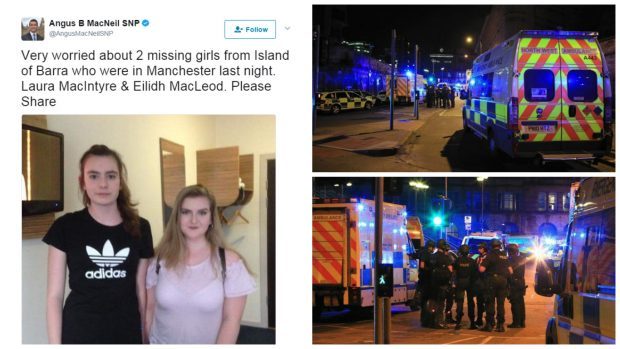 Two teenage girls from the Isle of Barra have been reported missing today following last night's suicide blast in Manchester.
Laura MacIntyre and Eilidh MacLeod, aged 15 and 14, have not been heard from since the incident late last night at the city's Manchester Arena.
Micheal MacIntyre, Laura's father, said that the gig was his daughter's first ever concert.
He said: "It was Eilidh's birthday present and the two of them are big fans of Ariana Grande.
"Laura was so happy to be going down there with her friend.
"It was Laura's first concert. I was a bit hesitant about her going to a concert so far away but she seemed so happy.
"I'm waiting by the phone all day in case I hear any news."
This morning, Margaret MacNeil, the aunt of one of the girls, made an emotional plea for them to be found.
Writing on social media, she said: "My niece and her friend were at the Ariana Grande concert tonight and there has been no contact since the explosion.
"Please let us find the girls safe and well."
The missing people we know about so far from Manchester terror attack
Emily Clague, who is a manager at a Travelodge in Manchester, shared another picture of Eilidh online and said she was with her concerned mother.
She said: "Please please share. This is Eilidh MacLeod, last seen at the concert.
"I am with her mum and there is still no sign or contact from her, everywhere has been checked.
"This is an appeal if anyone has seen her please contact me asap."
Local MP Angus MacNeil also shared an image of the girls, a post that has since had more than 3,000 retweets.
He wrote: "Very worried about two missing girls from Island of Barra who were in Manchester last night."
This morning, he said he had been touch with the girls' families and was looking to offer his support in any way possible.
"I've just been speaking to them," he said.
"One of the girls, Laura, is a close friend of my daughter so it has been difficult.
"They were last heard from last night when they sent a message to say that Ariana was playing her final song.
"There is no answer on their phones this morning.
"It is heartbreaking and the island is in shock. Our prayers and thoughts go out to the families and all others affected by this awful tragedy."
A spokeswoman for Police Scotland said:"Police Scotland received a report of concern for two teenagers from Barra who have not been heard from following their attendance at the concert last night.
"Officers are assisting with enquiries."
'We just turned around and ran for our lives': Aberdeen man relives Manchester terror
Terror police are continuing to investigate the circumstances surrounding the explosion at the concert.
At least 22 people have been killed, including children, and a further 59 injured.
Chief Constable Ian Hopkins of Greater Manchester Police, said at a press conference that an emergency number has been set up for those worried about loved ones: 0161 856 9400.
He said police were currently treating it as a terrorist incident until they have further information.
He added: "This is clearly a very concerning time for everyone. We are doing all that we can."