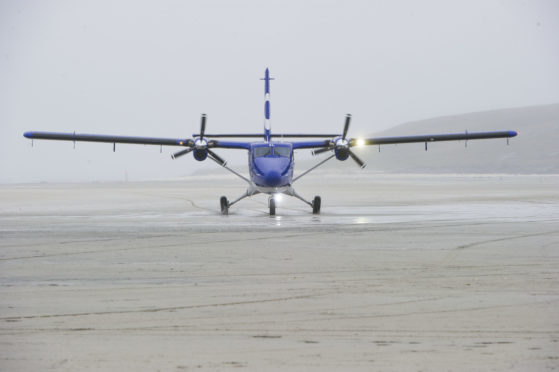 Extra summer flights from Glasgow are being added to the busy islands of Barra and Tiree.
Minister for Transport and the Islands Humza Yousaf announced the increased capacity on the services yesterday.
There will be an additional 22 return flights from Glasgow to Tiree through a redeployment of capacity from Winter 2018-19 to Summer 2018.
In May and early June there will be 22 additional return flights from Glasgow to Barra and from late June to October, up to 40 additional return flights through a redeployment of capacity from winter 2018-19 to summer 2018. This will be subject to on-going discussions with the Barra community.
Mr Yousaf said: "We have consulted with the communities of Tiree and Barra to see how we can improve their air services and address capacity concerns over the summer months.
"These additional services will ensure that we are maximising the potential of these services during the busiest time of year, supporting local economies and improving connectivity for these remote communities.
"The majority of extra flights will be created by moving a bank of rotations from the winter timetable, while still meeting demand during that time of year. This will create more capacity during the summer and reduce the number of empty seats across the year.
"We are also providing around £18,000 in additional funding to bring in the additional Barra flights in May and June.
"We are committed to supporting our remote communities and these improvements to our iconic air links will help do that."
Barra Airport is famous for being the only one in the world where scheduled flights use a beach as the runway.
Western Isles MSP Alasdair Allan said: "I'm pleased to see the Scottish Government working constructively with the community in Barra to increase flight capacity during the busy summer months.
"Barra is easily one of the most attractive places in Scotland for tourists to visit. These changes should help benefit the local economy while making it easier for residents to get to and from the mainland."
Barra councillor Donald Manford said: "A decision to support a continued increase in flights between Barra and Glasgow particularly in this economic climate is quite phenomenal. The confidence the Scottish Government has in our resolve to grow our economy and our community is inspiring.
"The freedom to increase summer flights even further by redeploying some winter flights will be given very careful consideration.
"On winter days where it's clear that two flights cannot be achieved, the freedom to redeploy them is a significant development.
"On other flights we must be extremely alert not to curtail the enormous economic opportunity to continually expand our travel season."