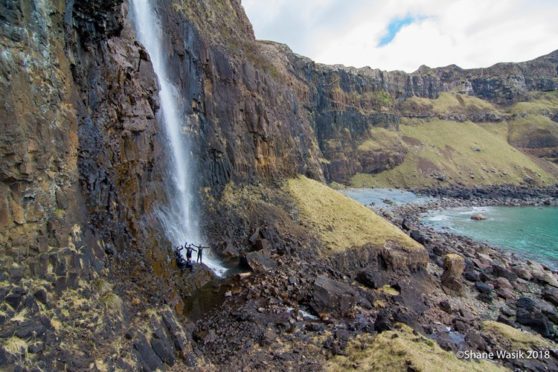 Towering cliffs and dramatic waterfalls make this Mull beach the ideal stop during snorkeling and dive tours.
But operators from one company that provides trips were horrified when they visited over Easter weekend to discover the scenic spot has become clogged with plastic and flotsam.
The beach is situated on the south coast of Mull between Loch Buie and Iona, near Carsaig.
Shane Wasik of Basking Shark Scotland said: "Whilst on a tour to this amazing location to swim at the waterfall over Easter we noticed a terrible mess on the adjacent beach. This coastline has towering cliffs, amazing geology, waterfalls, wildlife and stunning natural beauty. It's completely inaccessible apart from by fast boat, with the nearest point being Oban.
"Taking people to remote areas to see our stunning coastline, it was really horrific to see such an amazing place covered in rubbish. So we're gearing up to get a crew together to clean it up. However this isn't an ordinary beach clean, this is a expedition beach clean.
"It's about 31 miles – 90 minutes – from Oban with no land access and a very exposed rocky location so a tricky and costly place to get to. However we're organising all the logistics to get people there and back safely along with all the rubbish out."
The bay faces the Atlantic, south west facing into the prevailing wind. Any flotsam out at sea is being washed in by the currant.
Mr Wasik said they have seen a bit of rubbish there before, but never this bad.
A JustGiving appeal has covered the £800 cost of the expedition already. The clean will take place some time next week, depending on weather.
They are looking for 16 volunteers to help with the mission, who will be able to carry rubbish back and forward to dinghies then back to the main boat.
Two fast Ribs (rigid inflatable boats) will be used, one to carry volunteers, one for rubbish.
Argyll and Bute Council has agreed to collect the junk for recycling at Oban.
Any surplus money raised through crowdfunding will be put to either performing a second clean of the beach if required, or to the #planktonnotplastic campaign which is surveying basking shark food this summer for plastic contamination to assess if the sharks are at risk from ingesting plastic.
If this campaign is successful, Mr Wasik has suggested cleaning other remote beaches and coastlines in the Inner Hebrides.