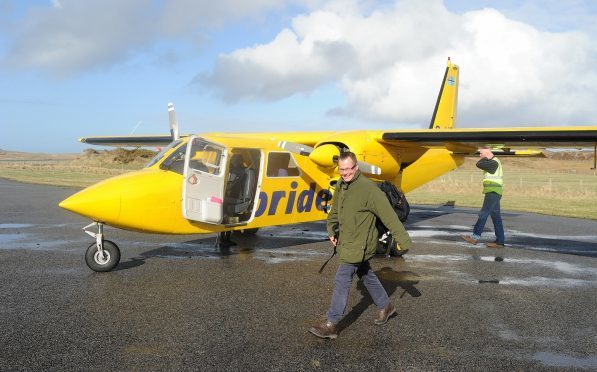 A plea has gone out to the 200 islanders on Coll to step forward and help save the local air service by taking safety jobs at the airport.
Argyll and Bute Council has advertised four posts on each of Coll and Colonsay.
These roles will enable flights to land and leave from the islands by ensuring their airports meet Civil Aviation Authority regulations.
A good level of response was received from Colonsay, but more posts need to be filled on Coll if the island's air service is to continue.
Councillor Robin Currie, policy lead for Islands said: "As a council we are doing all we can to make an air service from Coll possible.
"Despite financial challenges, we have put funding in place to run a service.
"We can't make this happen on our own though and so are appealing for the help of islanders in delivering a service that works for them.
"We will make training available, so local people have the chance to develop additional skills and we ensure expertise that is needed by the island is kept on the island.
"We are asking islanders to get involved in a service delivered by the local community for the local community."
Coll has had an air service for 12 years.
The council currently operates flights between Coll and Tiree and Oban, while the island is also served by a ferry service to and from the mainland.
The posts bring together fire safety and grounds operation duties.
Paul Devlin, fire service local senior officer for Argyll and Bute, East Dunbartonshire and West Dunbartonshire, said: "We have worked in close partnership with the local authority to identify and achieve the best outcomes for community safety.
"There is no doubt that the creation of an airport fire service further to a dedicated SFRS crew will enhance safety on Coll and Colonsay and is therefore good news for the community."
Details of the roles can be found on www.myjobscotland.gov.uk.
Applications are requested by February 4.