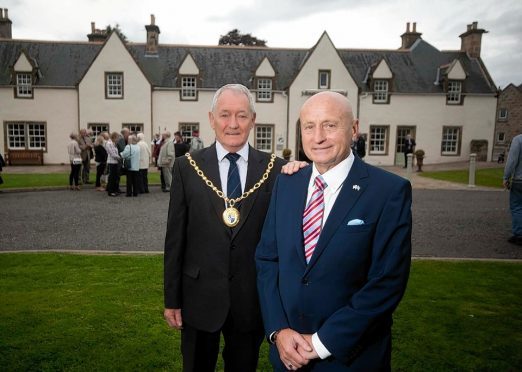 Visitors from the continent have been touring some of Moray's most famous attractions to celebrate the bond between Elgin and a town in Germany.
More than 40 guests from Landshut, in Bavaria, are enjoying the region's hospitality as they mark 60 years a treasured twinning link.
They arrived from the south-east of Germany late last week, and have enjoyed trips to the Glen Moray distillery, Pluscarden Abbey and Findhorn Bay.
Landshut mayor, Hans Rampf, has led the visiting delegation – which includes German councillors and representatives from the town's twinning committee.
On Saturday Mr Rampf joined Moray Council convener Allan Wright for a ceremony at the Johnstons of Elgin wool mill, during which the history of the twinning was discussed.
Elgin City North councillor, James Allan, was in charge of organising the visit and mapped out a string of jaunts designed to showcase the best Moray has to offer.
Mr Allan said that locals had outdone themselves in making the incomers feel welcome.
He said: "For a lot of the visitors, this has been their first experience of Moray.
"They've really enjoyed it, they have been staying at houses across the area and people have been taking an interest in them and buying them drinks in any pub we go into."
The visitors will journey to Wick today for a brief tour of the far north, before returning to Moray in time for a farewell party in Lossiemouth on Friday.
A crossing over the River Lossie, created as part of Elgin's flood protection scheme and opened in 2014, was named the Landshut Bridge in honour of the relationship between the towns.
A similar bridge in the German community is named after Elgin.