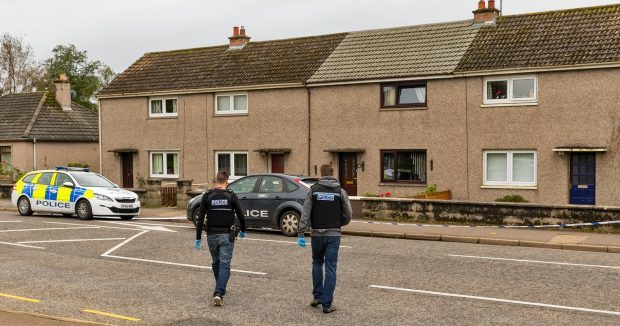 A man was left with blood pouring from chest wound after being stabbed during a violent fracas in a Moray town.
Eyewitnesses described seeing the 26-year-old clutching a rolled-up T-shirt to his chest after staggering out of a house in Elgin.
He was taken to hospital with serious injuries and was in a stable condition last night.
The incident happened in Elgin's Lesmurdie Road and last night police confirmed a 23-year-old man had been charged and was expected to appear at Elgin Sheriff Court today.
It is believed a disturbance started inside a property but spilled out on to the street.
One woman said a group of more than a dozen people appeared to be involved in a noisy confrontation just feet from her front door.
Police sealed-off a stretch of pavement along Lesmurdie Road as part of their investigation and a cordon was also put in place from near the junction with Deanshaugh Road to the Fraser Avenue junction.
Officers with sniffer dogs also searched nearby gardens while forensic teams examined a property in Lesmurdie road and removed several items in evidence bags.
A resident who lives opposite the scene said he saw the injured man leaning over the sign for Marleon Field and using a T-shirt to try to stem the blood from his injury.
A police spokeswoman said: "We can confirm that a 23-year-old man has been charged in relation to an incident which occurred on Lesmurdie Road around 11.20pm on Tuesday.
"As a result of the incident, a 26-year-old man was taken to Dr Grays Hospital with serious, but not life-threatening or life-changing injuries.
"He remains in a stable condition in hospital at this time."
Although neighbours said the area of Lesmurdie Road where the stabbing happened is a quiet neighbourhood, there was a murder at the other end of the road in 2010.
Thirty-seven-year-old father-of-six Stephen Johnston was killed during a brutal brawl between two rival gangs.
Jamie Nicol was jailed for a minimum of 18 years for his murder.
Four men were originally accused of killing the Irish-born labourer by hitting him with a knife, metal bars, baseball bats, golf clubs, wood, fence posts, hammers and a "For sale" sign.
Nicol died at HMP Shotts in Lanarkshire in December 2014 after taking a rogue batch of heroin.